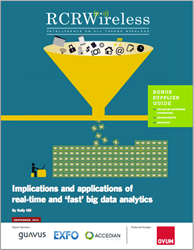 Is "fast data" good enough, or is the necessary information most useful if it is collated over time and triggered at just the right moment – and how do you know? This report investigates. - Kelly Hill, report author
Austin, Texas (PRWEB) October 01, 2015
Big data is big news in telecom and IT, and is expected both to grow as a market and to revolutionize how telecom operators – among others – do business.
But the use of big data in telecom is still fragmented. Executive-level leaders such as chief data officers have, largely, not emerged at this point in most telecom organizations. Departmental projects and use cases still dominate how operators pursue big data. The underlying data management and "plumbing" systems – the architectures and appliances through which massive amounts of data are collected from massive next-generation networks, millions of devices, operating support and business support systems – are still being funded and put in place.
The element of time is a crucial consideration as it frequently impacts the costs of a big data implementation. Does a specific use-case call for real-time information? Is "fast data" good enough, or is the necessary information most useful if it is collated over time and triggered at just the right moment – and how do you know?
"Telecom companies have dealt with large amounts of data for years, but the ability to compile intelligence from multiple information sources and get it to the right people quickly is becoming more crucial to their strategies," said RCR Wireless News Technology Reporter Kelly Hill. "Big data and analytics is moving toward real-time implementations that support automation in a number of crucial operations areas, although there's still a long way to go."
This report explores major trends in four areas where big data use is taking off in telecom: network performance and optimization; network security; customer experience management; and marketing/monetization. We also look at the organizational impacts of big data on the telecom's business.
Download this report to learn:

How big data analytics is impacting telecom in network security, network performance and optimization, customer experience management and marketing/monetization.
Use cases and the value of big data in each area
Drivers for analytics use, including small cells, the Internet of Things, and 5G
Wi-Fi and its impact on analytics visibility
Impact of big data analytics on telecom leadership – and vice versa
Bonus: Guide for big data analytics suppliers
Watch the complimentary editorial webinar featuring:

Kelly Hill, Technology Reporter, RCR Wireless News
Chantel Cary, Analyst, Telecom Operators and IT Practice, Ovum
Scott Berns, Director of Life Cycle Management, CenturyLink
Maria Marino, Director of Product Delivery and Customer Experience, CenturyLink
Scott Sumner, VP of Solutions Development and Marketing, Accedian Networks
Anssi Tauriainen, Director – Business Development, Analytics, EXFO
Ben Parker, VP Strategy and New Markets, Guavus
RCR garnered insight from experts across the telecom ecosystem on the state of big data and analytics within the industry, from experts on network security to analytics companies focused on network optimization, to telecom-focused customer engagement and monetization strategies.
"The big data is not the point. It's the supporting better business decisions," said Dan Joe Barry, VP of Positioning for Napatech.
Click here to download the report.
About RCR Wireless News
Since 1982, RCR Wireless News has been providing wireless and mobile industry news, insights, and analysis to industry and enterprise professionals, decision makers, policy makers, analysts and investors. Our mission is to connect, globally and locally, mobile technology professionals and companies online, in person, and now on video. Our dedication to editorial excellence coupled with one of the industry's most comprehensive industry databases and digital networks leads readers and advertisers to consistently choose RCR Wireless News over other industry publications. http://www.rcrwireless.com