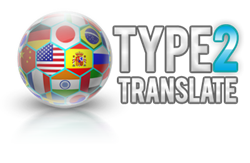 When a business or website advertises their product or service in English only, they have a potential of reaching only 26% of global internet users. Seeking website translation services is a way to appeal to a much larger demographic.
Dallas, Texas (PRWEB) October 01, 2015
Miniwatts Marketing Group has published their most recent estimates of the top ten languages used for browsing the internet around the world. The study was conducted in June, 2015 and recently updated online on September, 27th 2015.
It is no surprise to see that the market share of native English speakers has shrunk since their previous estimate published from their 2011 study.
While there are over 6,000 recognized languages around the world, Chinese now accounts for 21.5% of the internet browsing population. When paired with English, the two languages account for 47.5% of the global internet population by language.
What does this mean?
It means the online language spectrum, both domestic and abroad, has grown increasingly fragmented and people all over the world have access to and demand content in their native language.
Surprisingly, while the native English speaking population still takes the lead with 26% of internet users, a separate study shows a whopping 54.8% of online content is published in English. These estimates represent a real opportunity for business owners and entrepreneurs with a website. While most of the competition has not caught onto the fact that they are missing out on a massive online audience, some stay ahead of the curve by seeking professional translation services from reputable translation agencies to bolster their multilingual content.
How to quickly double your potential digital reach:
If you have a website published in English alone, you could nearly double your online traffic potential by translating the website into Chinese (Mandarin). Likewise, you can truly increase your market reach by creating copies of your website content targeting some of the top ten languages used online. Following English and Chinese, the other eight highest ranking internet languages used account for another 31.3% of worldwide users.
Lets get technical:
You may be wondering what to do with translated content and how to even add it to your website. Luckily there are many website translation services out there that can do it for you. Otherwise, there are also great resources online which will tell you all you need to know about multilingual SEO and multilingual website development. One of the best is probably Google itself.
Type 2 Translate LLC has been delivering digital multilingual content to clients around the world since 2013. As a U.S. veteran owned and operated translation platform, T2T offers professional human translation and localization services in over 80 language pairs and has a growing network of over 700 professional translators.