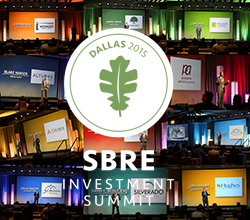 This Summit was our best one so far with more than $1 Billion dollars of total fund offerings between all the presenting fund managers. Our investor community seems to have embraced this event and the SBRE community continue to grow and prosper.
Portland, OR (PRWEB) October 22, 2015
The third SBRE Investment Summit began on October 15th in Dallas and featured talented Fund Managers from Texas, Oregon, Pennsylvania, Kansas City, California, Ohio, Arizona, Washington and elsewhere who presented their investment opportunities at the Summit, representing a wide variety of strategies and geographic opportunities in the SBRE segment. Details about the SBRE Summit can be found at: http://www.sbrefunds.com/dallas
"When the masters, minds and money of the SBRE community gather, great results can be achieved", said Matt Burk, CEO of Fairway America. "Our 3rd SBRE Investment Summit, which we just completed in Dallas, was our best one so far with more than $1 Billion dollars of total fund offerings between all the presenting fund managers. Our investor community seems to have embraced this event and the SBRE community continues to grow and prosper".
"Fairway America has repeatedly developed an excellent atmosphere of mutual trust and respect where investors can actively engage with fund managers. Investors are given the opportunity to see a wide variety of offerings in a very short period of time, thereby allowing them to easily compare and contrast their respective benefits and advantages," said presenter Stephen Seal, CEO of Voyager Pacific Capital.
The Dallas event marked Fairway America's third summit in the past 12 months that has attracted fund managers and high net worth investors, who come to educate themselves, network, and to hear about new alternative investment opportunities. "Fairway America continues to raise the bar from excellent to AWESOME! This is a tremendous value for fund managers," said veteran presenter, Curt Altig, CEO and President of Builders Capital from Seattle WA. "Where else in the country do you have a captive audience of willing investors all there for the specific purpose of hearing your 'pitch'? Plus, the gala dinner with the 43rd President, George W. Bush, was icing on the cake! That was one special evening," said Altig.
PRESENTERS AT THE SMALL BALANCE REAL ESTATE SUMMIT, DALLAS 2015:

BLAKE HANSEN, MANAGING PARTNER, Alturas Capital @alturascapital
CHRIS LOEFFLER, CO-FOUNDER & CEO, Caliber @CaliberCo
CURT ALTIG, PRESIDENT and CEO, Builders Capital @builderscapital
DARRIS CASSIDY, MANAGING DIRECTOR, Fairway America @FairwayAmerica
DAVID SCOTT, PRESIDENT, Silverado Management Group @silfund
DON WENNER, CEO, Silverado Management Group @DLPCapital
ERIC GOODMAN, CO-FOUNDER and MANAGING PARTNER, Goodman Capital
GREG HUGHES, FOUNDER & CEO, Hughes Private Capital
HUBERT HULTGREN, CO-FOUNDER, Golden Pacific Capital
MITCH SIEGLER, SENIOR MANAGING DIRECTOR and Co-Founder, Pathfinder Partners @PathfinderFunds
PAUL WORCESTER, PARTNER, Worcester Investments @InvestmentsKC
PHILLIP SANCHEZ, PRINCIPAL, Bay Mountain Capital @BayMountCapital
RALPH ABBOTT, MANAGER, Prospera Advisory Group @PremiereComm
RYAN PARSON, DIRECTOR-INVESTOR RELATIONS, Colonial Capital Management @ColCapMgmt
STEPHEN SEAL, CEO, Voyager Pacific Capital
WAGNER GRAMS, CIO, South East Texas Capital Advisors
More Information on the presenters and their investment opportunities can be found at: http://www.sbrefunds.com/dallas
SPONSORS OF THE SMALL BALANCE REAL ESTATE SUMMIT, DALLAS 2015:

ATER WYNNE LLP @AterWynne
EPITOME COACHING AND CONSULTING @epitomecoah
KEIRETSU FORUM @k4northwest @keiretsucapital
MICK & ASSOCIATES, P.C., LLO
NuView IRA @NuViewIRA
SPIEGEL ACCOUNTANCY
Styled by BTACK @styledbybtack
More Information on the sponsors can be found at: http://www.sbrefunds.com/dallas
WHO ATTENDED OUR EVENT: This event was by invitation only and has been specifically designed to cater to family offices and high net worth accredited investors interested in learning more about this "hidden asset class" that is now exploding out in the open with the passage of the JOBS Act in 2013.
For Future Sponsorship Inquiries | Media Contact: MC Rydzewski, pr(at)fairwayamerica(dot)com
For Future Summit Presenter Opportunities: Parties interested in being considered for presenting an investment opportunity at the next Summit should submit an "Application to Present": http://my.sbrefunds.com/present/
###
ABOUT FAIRWAY AMERICA
Fairway America, LLC is a longtime real estate asset based fund manager and real estate finance advisory firm providing strategic business planning services nationwide to SBRE entrepreneurs and independent registered investment advisors around the structure, architecture, and administration of proprietary 506 Regulation D pooled investment funds. Fairway's related entities manage two proprietary funds, Fairway America Fund VI, LLC, and Fairway America Fund VII LP, each focused on the SBRE space with different asset allocations and investment features. Both funds consider investments nationwide. http://www.fairwayamerica.com
ABOUT SBREfunds.com
SBREfunds.com is an online portal that exclusively lists small balance real estate pooled investment fund opportunities. Created by Fairway America, SBREfunds.com provides entrepreneurs and investors with education and connectivity to better capitalize and grow an SBRE enterprise. From connection to investors to strategic capital raising plans to live events, SBREfunds.com is the definitive resource for SBRE entrepreneurs and accredited investors to understand how to successfully work with one another for mutual benefit and growth. http://www.sbrefunds.com
Follow us on Twitter at @sbrefunds , @fairwayamerica, and @sbreguru, and on Facebook at http://www.facebook.com/sbrefunds.
Neither Fairway America nor SBREfunds.com is a registered broker-dealer or investment advisor. None of the Fairway companies perform any activities of a broker or investment adviser, including but not limited to, soliciting investors, providing investment advice, negotiating securities transactions or the terms, conditions or provisions of any offering, or recommending the purchase of securities. This press release does not constitute an offer or solicitation to sell securities in any of the companies mentioned, any funds presenting at SBRE Summit events, or any related or associated companies. Investors must not rely on information provided in this press release for investment decisions.