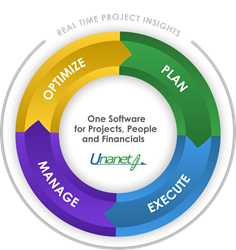 Dulles, VA (PRWEB) September 30, 2015
Unanet, a developer of software that helps project-driven organizations manage projects, people and financials in one integrated system, has announced it is a Gold Sponsor of the SBS Group 9th Annual Value Summit.
The summit, which will be held in three locations, New Jersey, California, and Chicago, will be taking place throughout late October, on the 21st, 28th, and 30th respectively. Notable speakers will include Dan Barnett, CEO and owner of The Primavera Company, who is a leading mind in the business arena and has received numerous awards for his speaking engagements. Additionally these events will include seminars on business, technology, and product updates. A Vendor Showcase will present technologies to enhance the Microsoft Dynamics experience.
Unanet complements Microsoft Dynamics SL for project-driven organizations by delivering Resource Scheduling & Skills Management, Budgeting & Planning, Time & Expense Reporting Automation, Billing & Revenue Recognition, and Real-Time Project Reporting & Management. Unanet provides a proven and robust alternative for Web Apps as customers upgrade to SL2015.
About SBS Group:
Working with clients, not just for them, SBS Group enables companies to go from "what is" to "what's possible" through individualized business technology solutions and best practices. Our industry centric focus and technical excellence combined with our delivery methodology has our clients' business at its core - helping them reach their destination quickly and efficiently. We bring fresh ideas to advance their business, help them navigate through alternative solutions, and provide support with an award-winning team of professionals. Feedback from our clients reinforces our unique partnering approach and helps us maintain one of the best client retention rates in our industry.
SBS Group is a national Microsoft master VAR (Value Added Reseller) and Gold Certified Partner. Over the past 25 years, we have been recognized as aww Microsoft Partner of the Year (Microsoft Dynamics SL), a Microsoft Inner Circle Member and a Microsoft President's Club Member. The company is headquartered in Edison, New Jersey and operates 37 other offices across the United States.
About Unanet:
Unanet is a leading provider of Cloud or On-Premise software for project-based organizations. Unanet delivers skills management, resource planning, budgeting & forecasting, time & expense reporting, billing & revenue recognition, and project management reporting. Over 1,000 organizations rely on Unanet to maximize staff utilization, reduce administrative costs by 90%, improve invoicing by 10X, and support forward decision-making for improved operations.