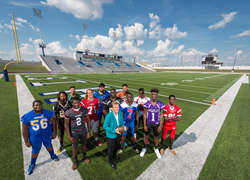 I am beyond impressed with the quality, determination, and dedication of these two companies.
Houston, Texas (PRWEB) October 01, 2015
Houston Independent School District partnered with Paragon Sports Constructors and Shaw Sports Turf for their brand new synthetic turf field in Delmar Stadium.
Intense flooding devastated the state of Texas during the month of May leaving communities and many districts across the state scrambling to clean-up and repair their flood damaged facilities.
Houston ISD, the largest school district in Texas and the seventh-largest in the United States, was one of those districts. Flooding of the stadium from the city's overwhelmed storm drain system rendered the field at Delmar Stadium unsuitable for play.
The stadium hosts football and soccer teams for 43 middle schools and 24 high schools throughout the district. In July Houston ISD made the decision to replace the field.
Paragon Sports Constructors and Shaw Sports Turf provided the school with an extremely fast 20 day turnaround of the project, four days ahead of schedule. The existing synthetic field and rubber pad were removed and the stone base was repaired. Finally, a brand new Shaw Bolt synthetic turf field was installed in time for their first home football game at Delmar Stadium on August 27.
Houston ISD and Paragon Sports Constructors have had a partnership for many years and this project was the third executed by Paragon Sports Constructors for the district.
"Houston ISD has been a valued customer of Paragon Sports Constructors for many years," said Bret Allen, VP of Sales and Marketing for Paragon Sports Constructors. " We are happy that they trusted us to replace their damaged field with so much on the line. We are also excited to show HISD and the Houston market what a great product Shaw Sports Turf produces."
This is Shaw Sports Turf's first field in Houston ISD.
"I am beyond impressed with the quality, determination, and dedication of these two companies," said Marmion Dambrino, Houston ISD Director or Athletics. "I had never imagined seeing such a bright, bold, and rich colored field until I saw the Shaw Sports Turf field being rolled out during installation. It truly is a beautiful field!"
The Shaw Sports Turf product manufactured for Delmar Stadium is the PowerBlade Bolt turf system.
Made with Shaw's stronger, more resilient monofilament fiber, Bolt's unique, state-of-art lightning bolt fiber shape creates a stronger vertical axis that causes fibers to stand upright for less breakdown and increased durability. Bolt is an engineered system specifically built for performance and to reflect light for a lower luster and more natural looking field.
"I am honored to work with Paragon Sports Constructors and HISD," said Jake McIntosh, Shaw Sports Turf Territory Manager. "This field is awesome and we look forward to the success that teams will achieve on this world-class playing surface."
The next varsity football game in Delmar Stadium on the Shaw Sports Turf field is this Friday, October 2nd, at 7p.m.
About Paragon Sports Constructors:
Paragon Sports Constructors is a turn-key contractor of natural and synthetic turf sports fields and running tracks based in Fort Worth, Texas. With over 30 years of sports construction experience they are one of the premier sports field and running track contractors in the South Central United States. Paragon Sports Constructors is a member of the American Sports Builders Association who remains focused on quality construction practices, choosing to partner with top brand name manufacturers of synthetic turf and track surfacing to provide clients a consistently high-quality project from planning to first use. For more information on Paragon Sports Constructors please visit http://www.paragon-sports.com.
About Shaw Sports Turf:
A wholly-owned subsidiary of Berkshire Hathaway Inc., Shaw Industries is a full flooring provider to the residential and commercial markets. Shaw supplies carpet, hardwood, laminate, resilient, and tile/ stone flooring products, as well as synthetic turf. Shaw Sports Turf is one of the leading synthetic turf companies in North America and has represented quality and innovation for more than two decades with over 1,500 successful installations, including an impressive list of high-profile field installations. For more information please visit http://www.shawsportsturf.com, call 866-703-4004 or find us on Facebook.