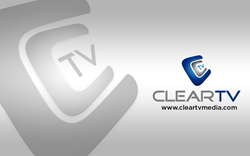 (PRWEB) October 01, 2015
ClearTV Media's roster of content providers include Television Networks, Film Studios, Record Labels and on line content aggregators who all provide eye catching and compelling content for the ClearVision TV Network at airports. However, in today's content arena, there is always a desire to create specifically customized content for the viewer based on their demographic and the location of the screens. With this vision in mind, ClearTV has teamed up with well known creative talent to create custom content segments for their screens.
"We are thrilled to be able to create content for our viewer that is specifically catered to what they enjoy watching at the airport while waiting for their flight" says Jonna Birgans, EVP, Programming Strategy and Business Development. "This custom content is one of the many attractive attributes that ClearTV has to offer its viewers."
Shawn Amos, noted content marketing executive, entrepreneur and musician, is hosting and Executive Producing a custom show for ClearVision called Digital Soul. "Digital Soul is a look at the intersection of creative technology and marketing," Amos says. "We highlight the brands and businesses making a real difference in people's lives."
Jackie James, of Girly Locker Room, brings the ClearVision viewer a compelling content series around the sports world from the view of a non-sports fan.
Famed MLB All-Start player Royce Clayton continues to work with ClearTV Media on his successful content series, Musiq Locker, which takes the viewer behind the scenes with athletes and music artists as they work together to create custom walk up songs for MLB players.
All of these custom segments are open to brand sponsorships on the ClearVision network, currently airing at Raleigh-Durham International Airport, Cleveland International Airport, Dallas Love, New Orleans International Airport, Grand Rapids and Denver International airport.
About ClearTV Media
Clear TV Media delivers customized TV stations to a dynamic Away-From-Home environment, bringing airports a new marketing tool that will target, reach and engage a world on-the-go. Clear TV Media has the power to connect with upscale demographics in ways never before imagined. To learn more please visit http://www.cleartvmedia.com