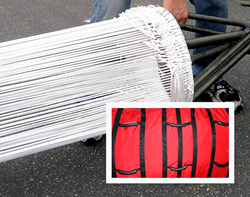 NEWPORT BEACH, Calif. (PRWEB) September 30, 2015
Fiorentino Para-Anchor has released their new DRAGon Chute™, a groundbreaking U.S.A. made parachute sea anchor with an easy-to-use Rapid Deployment Package TM that slows the drift of disabled merchant ships and tankers at sea.
The para-anchor allows large vessels to reduce grounding and stabilize roll effects, leveraging Fiorentino's patented Para-Ring® technology. It drastically improves the performance of large sea anchors, which can be heavy, unwieldy and feature electronics that can fail at critical times.
"In our decades-long research on parachute-style sea anchors, we found it's best to keep it simple when operating large devices, which can be over-designed and prone to failures," said Zack Smith, research director of Fiorentino. "We've used simple technology so that deck hands are able to actually deploy our para-anchor safely, even in rough seas."
The DRAGon Chute TM is a modified, extra-large version of the para-anchors Fiorentino has manufactured for the U.S. Coast Guard, mega-yachts and specialty vessels since 2000. Its diameter is about 25 to 50 percent larger than the company's existing large para-anchors, and its lighter design promotes rapid deployment.
The Para-Ring, which has been awarded a dozen patents, is the industry's first anti-tangle hardware now modified for the new DRAGon chute ™. It serves as a stabilizer, allowing the para-anchor's swivel to spin more freely so that the rode and shroud lines help combat tangles. This provides a distinct advantage for merchant and oil tanker ships deploying large chutes compared to current industry standards.
Since 1958, Fiorentino has pioneered parachute-style sea anchor and storm drogue research, and was the first to develop high-performance hardware to complement the single swivel mechanism commonly used in sea anchors. It began supplying large, 100-foot modified parachutes to the commercial shipping industry in the 1960s and was the first to test the use of helicopters to deploy para-anchors.
Additionally, Fiorentino conducted dozens of para-anchor tug boat and tow tests from various vessels using load cell equipment to determine shock loading, leading to the Constant Rode Tension Theory™ and a volume of first-ever research reports and videos that revolutionized
safety at sea.
The DRAGon Chute™ is the culmination of these efforts, and after numerous successful tests, NASA selected it for Orion water recovery operations in 2009.
"The Para-Anchor proved to be valuable in our recovery efforts," said Michael Lane, electrical engineering technician with NASA. "It helped cut the drift rate in half…"
For more information on Fiorentino, visit http://www.para-anchor.com.