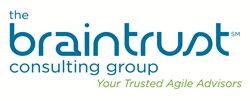 At Braintrust, we're passionate about Agile and are committed to the growth and development of South Carolina's talented technology sector.
Birmingham, Ala. (PRWEB) October 01, 2015
The Braintrust Consulting Group, a worldwide leader in Agile, announces a Certified ScrumMaster training course on October 20-21, 2015 in Charleston at the Omar Convention Center. The certification class is intended to teach attendees how to learn, plan, and implement Agile processes with the goal of increasing predictability of delivery, decreasing time-to-market, and improving overall client satisfaction.
The two-day Certified ScrumMaster class offers attendees an in-depth immersion into the world of Scrum. As the leading Agile development framework, Scrum has predominantly been used for software development, but it is also proving to be effective in efforts far beyond.
This class is ideal for IT Professionals (Architects, BAs, DBAs, Developers, Testers, etc.), IT Leadership (Managers/Directors/VPs/CIOs/CTOs), and Project Managers. Members of the Project Management Institute will earn 14 Professional Development Units (PDUs) toward maintaining their existing credentials by attending this class. To learn more about Braintrust's Certified ScrumMaster class or register, please visit https://www.braintrustgroup.com/class/certified-scrummaster-csm-charleston-sc-20-21-october-2015/.
Brain Rabon, Braintrust CEO, stated, "At Braintrust, we're passionate about Agile and are committed to the growth and development of South Carolina's talented technology sector. Scrum certification is one of the leading professional development certifications for IT professionals. Braintrust is proud to offer expert-led classes that are known for our unique approach to training with focus on hands-on-exercises and utilize the latest brain science techniques from the field of Accelerated Learning."
Tom Mellor, CST, will lead the training class. Mellor is a seasoned professional who has worked in business and IT for over 36 years. He has implemented Agile and Scrum framework with large (Fortune 50 company) and small companies. Mellor's purpose driven work has led him to consult with organizations, train organization leaders, and coach teams through modern Agile-based product development processes effectively. A Certified Scrum Trainer since 2008, he is passionate about the adoption and use of agile-based product development approaches.
Attendees are encouraged to register through the website in advance. Individual attendee and group pricing are available. To learn more about the Agile approach to training and discover more upcoming classes, please visit http://braintrustgroup.com/classes/.
###
About The Braintrust Consulting Group
The Braintrust Consulting Group is the premiere leader in training and coaching in the field of Agile. Through practical, hands-on training and enterprise and team coaching, Braintrust leads professionals through the process of planning and implementing Agile processes, such as Scrum and Kanban. Braintrust blends people, process, tools, and training into one seamless formula in order to increase predictability of delivery, decrease time-to-market, and improve overall client satisfaction. A worldwide leader in Agile transformations, Braintrust is located in Birmingham, Alabama, Los Angeles, California, and Salt Lake City.