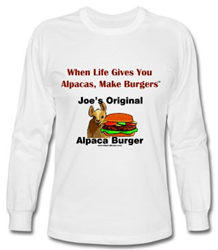 Discount prices are in effect through the end of December on the new line of Alpaca Burger products.
Sterling, Virginia (PRWEB) September 30, 2015
AlpacaBurger.com has a new line of gifts and apparel available, with plenty of time to shop for the holiday shopping season, and in prices friendly to every budget.
Highlights of the fall gift lineup include high-quality Alpaca Burger gear for men, women and children, including T-shirts, long-sleeved shirts, athletic jackets, and travel mugs. The new product line features taglines from the Alpaca Burger Cookbook and popular items from previous years, including "Warm. Cuddly. Marinated to Perfection."
All of the Alpaca-themed products are on sale through the end of December, at cost savings of up to 20 percent off of the normal retail prices.
For more information, please visit AlpacaBurger.com.