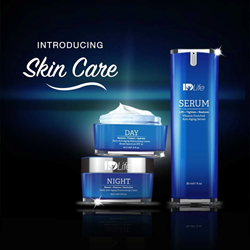 Frisco, TX (PRWEB) September 30, 2015
IDLife, LLC, has released a brand new anti-aging Skin Care Line formulated with the highest quality ingredients available for use on all skin types, including sensitive skin.The Day Cream, Night Cream, and Serum work together to provide a 24 hour anti-aging, anti-wrinkle formula that allows users to enjoy tighter, younger looking skin. When used as directed, many may notice visible results in as little as seven days. The line contains patented ingredients designed to combat DNA shortening, allowing cells to live longer and helping to produce younger-looking skin.
The IDLife Serum is packed with anti-aging peptides, vitamins and antioxidants that lift away fine lines and wrinkles. It is safe for use around the eyes and reduces puffiness and dark circles, eliminating the need for a separate eye cream. The Day Cream moisturizes the skin and contains broad spectrum SPF 20, protecting the face from harmful UV rays. The Night Cream supports natural cell renewal during sleep cycles, and helps skin to restore itself from damage done during the day.
The IDLife Skin Care line is free of parabens, sulfates, phthalates, artificial dyes or fragrances and the products are never tested on animals.
The Skin Care Line, like all IDLife products, comes with a 30-day money back guarantee.
Visit http://www.idlife.com/skincare for more information and to purchase the Skin Care Line. You may also contact IDLife, LLC toll-free at 855-972-4430.