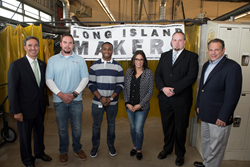 Our manufacturing facilities are maker spaces in a global economy where the people from assembly room to board room are artists, scientists, mechanics and engineers all in one
Suffolk County, New York (PRWEB) October 02, 2015
The Workforce Development Institute (WDI), and Dr. Shaun McKay, President of Suffolk County Community College, were joined by New York State Senator Jack Martins, Co-Chair of the Senate Task Force on Workforce Development; Assemblyman Fred Thiele, Jr., Chair of the Committee on Small Business; Assemblywoman Kimberly Jean-Pierre; Suffolk County Comptroller John M. Kennedy Jr.; Jamie Moore, President of ADDAPT; Bill Wahlig, Executive Director of LIFT ; Jeff Guillot, Founder of the Suburban Millennials Institute; Pat Malone, Executive Director, Stony Brook University Center for Corporate Education; John Lombardo, Associate Vice President for SCCC Workforce and Economic Development, Roger Clayman, Executive Director of the Long Island Federation of Labor, AFL-CIO, members of the Long Island Regional Economic Development Council and dozens of business leaders, elected officials, students and community activists to celebrate National Manufacturing Day on Long Island.
Dr. Shaun L. McKay, President, Suffolk County Community College said, "Community colleges have been at the forefront of helping to redefine manufacturing in the 21st century. We are certainly hopeful that the event and video will serve to inspire a new group of creative entrepreneurs—known as makers—to view manufacturing from a different perspective, ultimately leading some to consider launching manufacturing careers and startups. At Suffolk, we are focusing on new technologies that can empower students and support entrepreneurship. By emphasizing the connection between the College and career pathways, we are confident that skilled workers will be able to stay on Long Island and be able to afford to live here and raise a family."
The event was the result of several focus groups convened through the Manufacturing Workforce Intelligence Study, which was funded by Empire State Development and implemented by Stony Brook University, in partnership with LIFT, ADDAPT and Suffolk County Community College. The study's partners and participants found two key elements seemingly crucial to the continued growth in Long Island's manufacturing sector: awareness of the quality products, work and people, and continued attraction and retention of smart, hardworking and committed talent through additional workforce readiness programs. These findings spurred the Workforce & Education Work Group of the Long Island Regional Economic Development Council to develop a branding initiative around Long Island Makers and the many opportunities available to them..
"We need to connect people to jobs. Right here on Long Island, many good paying manufacturing jobs that teach valuable skills are going unfilled because companies can't find workers; that's a problem we must solve. Better preparing people for these in-demand jobs is critical not only for workers and employers but our entire region; it will provide individuals more opportunities for success and ensure that these businesses continue to grow and prosper right here in our communities. The WDI has led the way in identifying and addressing these issues. I thank them for inviting me to participate in Manufacturing Day," said Senator Jack M. Martins, Chairman of the New York State Senate's Labor Committee.
According to the New York State Department of Labor, employment in manufacturing was 71,134 on Long Island in 2014 (6.7% of private sector employment) and the average wage was $64,014 (1.3% increase from 2013). A departure from conventional thinking, average wages in manufacturing are higher than the private sector average ($53,136), proving that not only do these careers offer young professionals purpose, but they provide financial stability and a path focused on growth.
Patricia Malone, Executive Director of Stony Brook University's Center for Corporate Education said, "In our Manufacturing Workforce Intelligence Study and our long term collaboration with the manufacturing community on Long Island, we are continually inspired by the talent, passion and commitment from Long Island's business leaders and their workforce. We are all working every day to continue to grow a very vibrant and diverse manufacturing sector and it is exciting to see that work pay off. We at Stony Brook University are committed to continuing that growth."
The event launched a new effort to rebrand local manufacturing as an industry at the center of multiple creative and technical skills, as illustrated by the educational emphasis on STEAM (science, technology, engineering, art, and mathematics). It also characterized the many rewards and opportunities available to those businesses committed to operating on Long Island, such as a young and diverse pool of talent. The group unveiled "Millennials in Manufacturing," a video highlighting several Long Island Maker companies, their CEO's and millennial professionals, which can be seen on http://www.LongIslandMaker.com
"Economic empowerment is all about good work for people and their communities. Our manufacturing facilities are maker spaces in a global economy where the people from assembly room to board room are artists, scientists, mechanics and engineers all in one," said Rosalie Drago, Long Island Regional Director for the Workforce Development Institute. "The Long Island Maker video is just the beginning of a unified effort to build awareness about manufacturing jobs in the new century. The goal is to illuminate pathways of training and education for people so they can gain access to these meaningful, and economically viable, careers."
Jamie Moore, President of ADDAPT said, "Long Island is a global leader in manufacturing due to the experience, depth and breadth of manufacturing companies within our economic cluster. Our main competitive gap has been regional branding and marketing. Today's event marks the start of a coordinated effort to highlight our strengths and capabilities on a global scale to drive business to the region, engage our current and future workforce, and bring to light the amazing products and services offered by Long Islanders."
LIFT Executive Director Bill Wahlig stated, "Manufacturing Day is an opportunity to focus on the vibrant manufacturing that is being done here on Long Island and across nation. As the region's primary advocate and resource for manufacturers, we at LIFT are very proud to be participating in this national spotlight on manufacturing and its significant contributions to our economy. We also believe that manufacturing represents an excellent career path for our young adults. By raising awareness of the wide range of products and technologies being advanced by Long Island manufacturers, we are also helping to develop the next generation of makers for our country which, in turn, will help America regain its leadership in manufacturing and innovation."
The event also featured a panel discussion, moderated by Jeff Gulliot, Founder of the Suburban Millennials Institute, exploring the evolution of the local industry, the rewards and challenges of operating a manufacturing business on Long Island, the new trend of millennials looking to work locally and the career paths that are enabling them to innovate, contribute to business growth, and advance professionally.
"It is imperative we send out a clear message today: Long Island is open for business, and our employers are looking for home-grown talent, " said Suburban Millennial Institute Founder and Suffolk County Community College Political Science Professor Jeff Guillot. "There is a tangible need to connect the region's young people with jobs in the manufacturing sector and other trades- and I applaud the great work WDI has done to help build connections between these constituencies. In order to grow and thrive as a region, we must continue connect people across the socioeconomic spectrum with innovation opportunities."
Following the event, several manufacturers opened their doors and hosted tours for press, elected officials and community leaders, to continue to spirit of education and awareness around Long Island manufacturing.
The Long Island Maker initiative is tasked with building a powerful, enduring brand that resonates with residents and industry around the Long Island Maker community by creating consistent and unified messaging about what is made on Long Island and the people who make it, as well as provide stakeholders with the tools to champion the opportunities and values associated with being a Maker on Long Island. The first installation in this project focuses on a broad definition of manufacturing and the millennials who are thriving in it. The group plans to cover other subsectors (such as agriculture, and food manufacturing) in the future, to highlight the wide breadth of Makers of Long Island. The current video and all future Maker stories will be featured on the website: http://www.LongIslandMaker.com
Manufacturing DaySM is a national initiative designed to address common misperceptions about manufacturing, inspire the next generation of manufacturers and amplify the voice of individual manufacturers to coordinate a collective chorus with common concerns and challenges. Supported by a group of industry sponsors and co-producers, #MFGDAY takes place every year on the first Friday in October and has become the rallying point for a growing mass movement where manufacturers to come together in order to help their communities and future generations of American makers thrive.
The "Millennials in Manufacturing" video was made was possible through the support of the Workforce Development Institute (WDI) a statewide 501©3 non-profit that improves the lives of working men and women across New York State by providing targeted programs in workforce, economic, and community development.
PHOTOS AND VIDEO AVAILABLE: Contact Jennifer Pastrich at JLPastrich(at)gmail(dot)com
The Long Island Maker Initiative can be found at LongIslandMaker.com
Like us on Facebook: /longislandmaker & Follow us on Twitter @LIMakers.