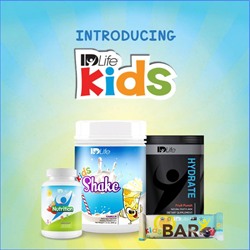 Because IDLife Kids Deserve Only the Best Too!
Frisco, TX (PRWEB) September 30, 2015
IDLife, LLC, recently released a line of children's nutritional products that are designed specifically for kids' growing bodies. Each product is formulated with the proper kid-sized nutritional proportions to ensure that children receive the maximum health benefits in their daily routine. The line includes Kids Nutrition, Kids Shake, Hydrate and Kids Bars; and all are designed to offer delicious options that kids will love, but don't force families to compromise nutrition.
IDLife Kids Nutrition is a daily vitamin for children designed with a formula that offers the best ingredients available and leaves out all artificial coloring, flavors, sweeteners, preservatives or additives. Kids Nutrition is complete with 24 vitamins and minerals designed to fill nutritional gaps in any child's diet and comes as an easy-to-chew, mixed berry flavored tablet.
IDLife Kids Shake is a vanilla flavored powder formulated with 12 grams of cold-filtered whey protein from hormone-free, grass fed cows and micro-milled chia seeds. Sweetened with all-natural stevia, children think they are getting a treat when they get a taste of the IDLife Kids Shake. The shake contains superior ingredients for children and is soy free, gluten-free, casein free and non-GMO.
IDLife Hydrate provides electrolytes, vitamins, minerals and antioxidants necessary for the body to stay hydrated and to perform at peak levels when it comes to respiratory rate, memory, digestion and other essential functions. Hydrate provides all of the health benefits without any of the sugar normally found in leading sports drinks. Offered in Mango Passion or Fruit Punch flavors, Hydrate is ideal for sports games, outdoor activities or general daily consumption.
This bar is a 100% Organic snack for children that eliminates the constant compromise for families when they need a quick and convenient option. The Chocolate Berry flavored bar is packed with superfoods that deliver essential nutrients to kids' diets and is also Kosher, non-GMO, and gluten-free.
The Kids Line, like all IDLife products, comes with a 30-day money back guarantee.
Visit http://www.idlife.com/kids for more information and to purchase the Kids Line. You may also contact IDLife, LLC toll-free at 855-972-4430.