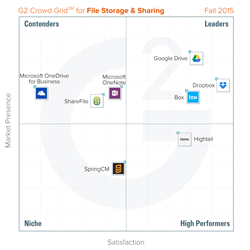 CHICAGO, IL (PRWEB) October 01, 2015
The updated GridSM report for file storage and sharing software, published today by business software review site G2 Crowd, ranks eight products to help purchasers in their software selections. Dropbox, Google Drive and Box were named Leaders in the report, receiving strong customer satisfaction scores with a large market presence. Additionally, Hightail was named a High Performer, earning strong customer satisfaction marks with a smaller market presence score. Overall, Dropbox earned the highest overall Satisfaction score while Google Drive earned the highest overall Market Presence score.
The Fall 2015 GridSM report is based on more than 850 reviews written by business professionals. Of the roughly 70 products listed in G2 Crowd's File Storage and Sharing Software category, the ranked products each received 10 or more reviews to qualify for inclusion on the GridSM.
The GridSM, created from G2 Crowd's software review platform, factors in customer satisfaction reported by users, along with vendor market presence determined from social and public data to rank products. Based on a combination of these scores, each software solution is categorized as a Leader, High Performer, Contender, or Niche.
Of note, Hightail moved from the Niche quadrant to the High Performer quadrant as its satisfaction score increased by 30 points and its market presence increased by five points. Additionally, Microsoft OneDrive for Business decreased in satisfaction by 10 points and decreased in market presence by one point.
Despite file storage and sharing products being primarily cloud-based, and presumably less secure, reviewers felt comfortable using these products to store confidential files. Security received an average rating of 90 percent across all products, tied for the second highest average in the category.
When it comes to choosing a file storage and sharing software users consistently touched upon ease of use and ease of setup as important factors – averaging 87 percent satisfaction ratings for each. Across the board, reviewers reported the product they use meets their requirements at an average of 86 percent, and on average reviewers say they were 82 percent likely to recommend the product they use. Products appearing on the GridSM for the first time are Microsoft OneNote and SpringCM.
Some highlights from file storage and sharing reviews on G2 Crowd:
"Dropbox is a great product for managing business and home life! I'm able to share files between my computers and mobile devices, make changes on the go, and know that those files are updated everywhere else without me having to worry about them."

Sofia A., Master Hairstylist at Regis Corporation
"Google Drive is a great tool for collaboration on documents, spreadsheets, and even power points. Being able to collaborate on a document in real time can be immensely helpful and let you put together information quickly with your team. Google continues to add additional features, widgets, and neat things to this system that allows you to do more and more with your files. Recently, the ability to store, sync, and back up your own files on Google Drive puts it on the path to compete with Dropbox and even Microsoft syncing system."

B.J.E, Web Production Assistant at Taylor Gifts
"Box has given me some time back in my day. Rather than having to track people down to get their files, I get my clients in the habit from the start of a project to upload everything into Box so that it's accessible to the entire team. It streamlines the process."

Katrina W., Instructional Designer at Penn State University
"We have been using Hightail for large files for a few years. We have a small corporate account so we can add, delete and manage users as needed. I specially like the Outlook plug-in that works seamlessly within Outlook so you don't have to go outside your email screen."

Alison J., Director of HR & Customer Services at Bird-X, Inc.
"SpringCM enabled us to meet the clients needs at a fraction of what we paid before. This product is inexpensive compared to traditional solutions. We were able to implement workflow using just the Smart Rules. So, after the initial setup, changes to the system going forward are handled by BAs or other non-developers. This saves us tremendously in TCO."

Charles B., Chief Technology Officer and VP of IT at Lincoln Trust
Premium research on file storage and sharing software can be purchased on the G2 Crowd website for $599. This offers the original data for filtering and weighting, as well as individual profiles of each platform with the most helpful positive and negative reviews, detailed company information, user satisfaction ratings, feature scores and customer metrics. Future refreshes of the GridSM will provide updated rankings based on the latest reviews and social data.
Be sure to check out the new GridSM for file storage and sharing product analysis and subscribe to the premium research.
_______________
About G2 Crowd, Inc.
G2 Crowd, the world's leading business software review platform, leverages its 41,000- plus user reviews to drive better purchasing decisions. Technology buyers, investors, and analysts use the site to compare and select the best software based on peer reviews and synthesized social data. Co-founded by the founder and former executives from SaaS leader BigMachines and backed by roughly $12 million in capital, G2 Crowd aims to bring authenticity and transparency to business technology research. For more information, go to G2Crowd.com.