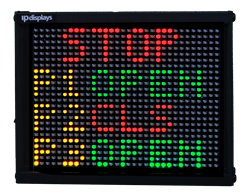 "We are thrilled to offer our compact signs at a price point near the cost of stack lights," remarks Kevin Hooks, IPDisplays CTO. "Except you get real graphic and text information, not just blinking lights."
Allen, TX (PRWEB) October 05, 2015
IPDisplays LLC, a leading provider of Smart LED signs for real-time data applications, introduces two new compact LED signs to complement its existing LED Signs and Smart LCD Player product line. Signs feature dual Ethernet ports which allow devices to operate on a control network retrieving factory floor data, and, an office network for configuration.
Signs include IPDisplays latest onboard 1 GHz ARM processor for faster updates and to host the newly designed HTML5 interface. Displaying data is a matter of creating connections to remote web services and PLCs including Native Ethernet/IP, Modbus TCP, MELSEC, and XSLT. Hundreds of data tags from multiple sources can be updated in the signs. There is also a 24 volt I/O port option, 4 outputs and 4 counters or inputs can connect to external signals through an M12 connection. The signs are industrial temperature rated and have powder coated aluminum NEMA 12 enclosures.
These small signs have all the standard IPDisplays functionality of Timers, Counters, Thresholds, and a real-time Clock that supports NTP or SNTP. Conditional logic can be set to change layouts, messages, graphic elements and colors. Signs have 127 levels of brightness and can be dimmed and brightened programmatically or HTLM5 interface. A Web Services API and Microsoft .Net API are included for creating interfaces to commercial or in-house software systems.
"We are thrilled to offer our compact signs at a price point near the cost of stack lights" remarks Kevin Hooks, IPDisplays CTO. "Except you get real graphic and text information, not just blinking lights."
Model IP24x32RG-DS is double sided and measures 9" long by 7" high.
Model IP24x64RG is single sided and measures 16" long by 7" high weighing 6 pounds. Signs can be mounted from the bottom or top for easy installation.
All IPDisplays products are manufactured in Allen, TX.
About IPdisplays
IPDisplays is a leading manufacturer of smart LED signs and smart digital signage players that can be used in a variety of applications and industries where immediate real-time feedback to management and workers via displays can be used to enhance operations, productivity, improve customer services, inform employees, and more. IPDisplays can be reached at: http://www.ipdisplays.com, or 877.484.5700.