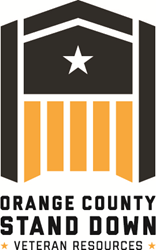 This event is critical in providing the services and resources veterans need to find jobs, homes, and self-sufficiency. We're calling on volunteers, local businesses, and service providers to help make this the most successful Stand Down event yet!
Costa Mesa, California (PRWEB) October 01, 2015
Working Wardrobes, an Orange County, California nonprofit that helps people overcoming difficult challenges find meaningful employment and achieve self-sufficiency, today announced it is leading this year's Orange County Stand Down & Veterans Resource Expo, along with the Orange County Rescue Mission.
The Stand Down event is scheduled for October 23 – 24, 2015 at the historic blimp hangar at the former Marine Corps Air Station in Tustin, where more than 100 nonprofit organizations and government agencies will come together to provide a safe place for veterans to receive comprehensive basic needs and support services, all under one roof.
During the event, the blimp hangar will feature "villages" (or service areas) that focus on specific resources such as housing and shelter, financial literacy, health and wellness, clothing, benefits, and legal needs, with veterans' services and workshops offered.
On Saturday, October 24, 2015, from 10:00 a.m. to 3:00 p.m., unemployed and underemployed veterans and their spouses can participate in a Career Expo by networking with more than 100 local businesses to find work or better paying jobs.
Jerri Rosen, founder and CEO of Working Wardrobes and its VetNet program – a safety net for veterans that provides job training and placement, housing referrals, and other career services – says veterans in our community desperately need our help.
"There are more than 1,400 homeless veterans in Orange County, and many others who are unemployed or underemployed and at risk of becoming homeless," said Rosen. "This event is absolutely critical in providing the services and resources veterans need to find jobs, homes, and self-sufficiency. We're calling on volunteers, local businesses, and service providers to help make this the most successful Stand Down event yet."
Rosen says partnering organizations are striving for 500 homeless and transitioning veteran attendees for the Stand Down. The Saturday Career Expo invites 100 local employers who want to hire veterans and meet an additional 1,000 attendees. Dozens of service providers will be on hand to lend resources, including Orange County Transportation Authority, Habitat for Humanity, Department of Veterans Affairs, Veterans of Foreign Wars, 2-1-1 Orange County, American Red Cross, Brackens Kitchen, Coastline Community College, AmVets, Cal Vet, Public Law Center, Veterans First, Team Red, White & Blue, Armed Force 2 Workforce, OneOC, Irvine Valley College, Art Institute of Orange County, Child Guidance Center, OC One Stop, HomeAid OC, J&J Coastal, and Council on Aging among others.
Additionally, Working Wardrobes is proud to announce that over two dozen sponsors and donors have stepped forward to contribute to this important event. Sponsors include Standard Pacific Homes, Bank of America, The Boeing Company, City of Tustin, Working Wardrobes, Orange County Rescue Mission, The Home Depot Foundation, US Department of Labor, Furnishing Hope, SCE, Goodwill of OC, Autobytel, Orange County Business Journal, OneOC, The Integration Works, Dell / Sonic Wall, and more!
"The best gift we can give the veterans who bravely served our country is the ability to support themselves and their families," said Jim Palmer, President of Orange County Rescue Mission. "This event gives veterans ready access to the resources required to help them find jobs, housing, medical care, and other important services so they can lead happy, healthy, and productive lives here in our community."
John Nielsen, Mayor Pro-Tem of Tustin, says response from the local business community has been great so far, with companies such as Home Depot, Autobytel, PIMCO, and Cox Communications committing to major sponsorships of this year's Stand Down event. However, he says much more is needed.
"The success of this event, and ultimately the number of veterans served, hinges on the involvement of the local business community," said Nielsen. "In addition to providing financial support, we urge companies looking for qualified job candidates to participate in the Career Expo and to give our veterans a fighting chance by employing them in local jobs so they can provide for themselves and for their families."
To find out how you can get involved with the 5th Annual Orange County Stand Down & Veterans Resources Expo, visit http://www.orangecountystanddown.com or email Josh Newman at josh@af2wf.org to reserve your booth at the Career Expo.
About Working Wardrobes
Working Wardrobes is an independent nonprofit organization that empowers men, women, veterans, and young adults overcoming difficult challenges to confidently enter the workforce and achieve self-sufficiency. The organization provides career training, job placement assistance, and professional wardrobe services in an environment of dignity and respect.
About Orange County Rescue Mission
The Orange County Rescue Mission was formed as a faith based organization in 1965, and serves the least, the last, and the lost of Orange County. Its programs are designed to give comprehensive services such as guidance, counseling, education, job training, shelter, food, clothing, and health care that move homeless men, women, and children to self-sufficiency.