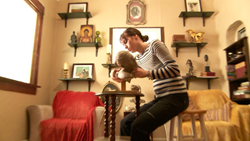 Scientology is about making your life the way you want it
Los Angeles, CA (PRWEB) September 30, 2015
"I like creating beauty," confesses Madison Hunter, a 25-year-old artist who is drawn to the hands-on, three-dimensional medium of sculpture. "It's just always been something that I do."
It's a bit more difficult for Hunter to find the time to sculpt these days as a busy wife and mother to a pair of boys, one 3 and the other 10 months old—which you might call her ultimate artistic creations. But the vibrant Utah resident has continued to make her art a priority along with outdoors pursuits including hiking, river rafting and rock climbing.
Born into a Scientology family herself, as a child Hunter learned tools she could use to improve her study techniques and communicate more effectively.
"I'd use it, and I'd see it would work," she observes.
One of the things she's learned as an artist, Hunter offers, is that an inability to confront an object, person or activity consistently inhibited her creativity in sculpture.
On a more everyday level, Hunter has found Scientology a dependable way to improve her life in pretty much every way.
"Scientology is about making your life the way you want it and improving the space around you so that others can have that as well—and we can really live in an optimum society," she believes.
Hunter also extols the importance of reaching out beyond oneself and one's family to help others. "Maybe your neighbor is not having an easy time and is walking down the street unhappy. If so, maybe you should ask them about it, not just closing your blinds and hoping it's over soon. You should do something about it. That's what Scientology teaches me."
You can watch Madison Hunter's "Meet a Scientologist" video on the Scientology website.
The popular "Meet a Scientologist" profiles on the Church of Scientology Video Channel at Scientology.org features Scientologists from diverse locations and walks of life. The personal stories are told byScientologists who are educators, teenagers, skydivers, a golf instructor, a hip-hop dancer, IT manager, stunt pilot, mothers, fathers, dentists, photographers, actors, musicians, fashion designers, engineers, students, business owners and more.
A digital pioneer and leader in the online religious community, in April 2008 the Church of Scientology became the first major religion to launch its own official YouTube Channel, which has now been viewed by millions of visitors. Learn more about Scientology at http://www.Scientology.org