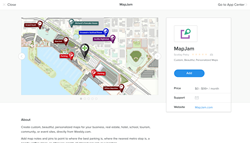 MapJam is thrilled to be included in the Weebly App Store, and we hope Weebly's users discover how easy it is to create personalized, content-rich maps.
New York, NY (PRWEB) October 01, 2015
Weebly users can now create and embed personalized, uniquely branded maps onto their websites, blogs and online stores -- a functionality made possible by the selection of MapJam as the featured mapping tool in the Weebly App Store.
At a kickoff event today in New York City, MapJam (MapJam.com) joined 35-plus partners as newcomers to the Weebly App Store, making its online mapping tools and features immediately available to Weebly's millions of users and web designers.
"In today's world, consumers rely heavily on maps to provide precise location when searching for a particular business. Because of this, it's now extremely important for website owners, designers, bloggers and online businesses to create 'owned' maps in a matter of minutes – no programming or coding skills required," said Jack Gonzalez, a former geography teacher who is co-founder and co-CEO of MapJam. "MapJam is thrilled to be included in the Weebly App Store, and we hope Weebly's users discover how easy it is to create personalized, content-rich maps -- especially if they are business owners, content marketers, or just ordinary people who do not have access to developer resources."
Weebly's platform, built on simple drag-and-drop features and available in 12 languages, hosts more than 20 million websites, blogs and online stores around the world that attracts 175 million unique visitors each month. Its new App Store will serve as a place for entrepreneurs to grow and manage their online business. From social media management, personalized maps, international shipping to SEO and marketing, Weebly wants to tackle the hurdles that small business owners must overcome in a simple and easy-to-use way.
The MapJam mapping alternative
MapJam's user interface eliminates the need for web designers or developer tools to create online maps. Like Weebly, MapJam's drag-and-drop interface enables users to create a content-rich, detailed, uniquely branded and customized map of any location in the world quickly. Maps can be embedded easily on websites and shared across key online channels.
MapJam is especially suited for retail businesses, events and event planners, real estate agents, vacation rental property owners, journalists and bloggers – owners of any online site or content. By "owning" their online maps, website creators can cut their ties to generic third-party maps that also feature competitors, nearby businesses or potentially negative third-party content or reviews.
Key features of the MapJam platform in the Weebly App Store include the ability to:

Add locational markers, notes, text, layers, landmarks and descriptions to key areas on the map
Upload images, logos and videos to content cards that "brand" each map
Customize map elements and location pins by size, color, icon and background
Add last-mile details, directions, nearby amenities or must-have information, such as the location of the nearest parking lot, the start of a trailhead, nearby restaurants or parks, one-way streets, subway stops and other call-outs
Share maps via text, Facebook, Twitter, LinkedIn and Pinterest
For more information about location marketing, or to interview MapJam's Gonzalez or Petry about the MapJam map-publishing platform, contact Nikkia Griffin at ThinkInk, ngriffin@thinkinkpr.com or 305-749-5342 ext. 239. For Weebly information, contact Kim Chappell at kim(at)weebly(dot)com.
About MapJam
MapJam, based in San Francisco, is a web and mobile map publishing platform that allows businesses and organizations to create useful, personalized maps that are easy to share without writing one line of code. Online maps can be updated in real time and shared on Twitter, Facebook, Pinterest, Google+, email and text, or embedded as interactive maps on websites, Facebook Pages or WordPress sites. Launched in 2015, MapJam is part of 500 Startups (Batch 14). http://www.mapjam.com
About Weebly
Founded in 2007, Weebly is a San Francisco-based, global platform that lets people easily create a unique website, blog or online store. Millions around the world use Weebly to start their own business, sell online, showcase their achievements and communicate with visitors in a thoughtful and meaningful way. Designed with the first-time business owner in mind, Weebly gives everyone the freedom to build a high-quality site that works brilliantly across any device. Weebly offers a range of pricing options, including free and premium consumer plans, as well as enterprise offerings and is consistently the highest-rated website building mobile app in the App Store and Google Play. Weebly's investors include Sequoia Capital, Tencent Holdings, Baseline Ventures, Ron Conway and Y Combinator. http://www.weebly.com