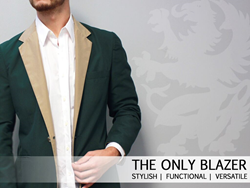 The Only Blazer is perfect for when work and life blend together. Its slim fit gives it a tailored look that can be dressed up or down.
Tampa FL (PRWEB) October 07, 2015
Black and Denim, creators of The Only Blazer, today launched its crowdfunding campaign on Kickstarter.
The Only Blazer combines versatility with hipster cool. The founders of Black and Denim saw a need for a blazer that dressed up an outfit so they wouldn't have to invest in multiple "traditional" suits.
"We took the traditional boring blazer and completely blew it up," said Black and Denim co-founder Roberto Torres. "The first thing to go, the ugly buttons, the stitch structuring, the fabric, the wrinkling, when we were done we knew we had something big,"
Whether it's stuffed in a bag, a backpack or an overhead bin, The Only Blazer keeps its shape and looks great when you put it on. The special micro-sanded fiber is soft, breathable and repels liquid so it won't overheat and saves on dry cleaning costs.
The creators of The Only Blazer tested coffee, wine, beer and soda on the blazer and liquids bead off the fabric and it doesn't stain - with the exception of ketchup.
The Only Blazer is perfect for when work and life blend together. Its slim fit gives it a tailored look that can be dressed up or down. The multiple color combinations are designed to complement any existing wardrobe. Because it's reversible, buyers will be getting two blazers for the price of one.
The founders of Black and Denim describe their style as "a James Dean look with a Johnny Cash soundtrack". They started the company five years ago to bring back American craftsmanship and make clothes that people want to wear.
"We're going to use our factories here in America, and we are going to keep the price down," added Torres. "You're going to love this blazer."
The Only Blazer starts at $169 on Kickstarter. For more information, and to pre-order The Only Blazer visit:
https://www.kickstarter.com/projects/blackanddenimapparel/the-only-blazer?ref=hero_thanks
About The Only Blazer
MATERIAL: The Only Blazer is made from micro-sanded fiber that's lightweight (3.75 oz.) and comfortable. It even keeps you dry in the heat.
STAIN RESISTANT: Liquids bead off The Only Blazer so you don't have to worry about stains.
WRINKLE RESISTANT: You don't have to keep The Only Blazer on a hanger to keep it from wrinkling, pull it out of your back pack, throw it on and you're good to go.
SPECIAL FEATURES: Reversible buttons, functional side pockets to hold keys, phone or wallet, left chest pocket.
About Black & Denim: Made and sourced with 100% American Raw Materials, Black & Denim is a Lifestyle brand with a spirit as resilient as the American Dream. It conserves the essence of the History of made of casual articles of clothes and accessories for men that are inspired by Americana, Music and the American lifestyle. The premise of being in tune with the fashion trends without becoming a victim of fashion is materialized through contemporary basics -with classic touches- that make the perfect balance between comfort and elegance.