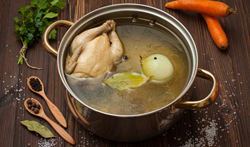 Best Best Broth Recipe + Health Benefits
(PRWEB) October 01, 2015
Bone broth, the fastest emerging health food product taking the nation by storm, will continue it's meteoric rise as seasons change and go from warmer to colder. During the colder months millions will be looking for new bone broth recipes and be drinking this warm savory beverage to soothe colds, provide essential nutrition for their bodies, and even make their hair, skin, and nails look better in the process.
People are to eat chicken and beef marrow soup when they are sick but what many don't know is that the secret behind this soothing and healing meal is actually the liquid broth. It is full of vitamins, minerals, protein, amino acids, collagen and glycine which are the building blocks that one's body uses to repair itself. Even pet owners are realizing the healing powers of bone broth and making it a staple of their pet's diets.
Au Bon Broth, the nation's largest shipper of organic bone broth recommends people looking to add bone broth to their diet consume 1-2 eight ounce cups per day.
This robust and savory bone broth recipe below anyone can make at home can be the basis for innumerable soups and stews, but it also makes a satisfying and nourishing drink on its own.
To make bone broth at home: (This bone broth recipe will nourish the body as well as taste delicious!)
Learn about bone broth benefits
(Bone broth recipe courtesy of Au Bon Broth Bone Broth)
====Organic bone broth Ingredients
2 pounds grassfed organic beef bones
2 pounds organic whole chicken (cut up)
2 pounds organic whole turkey (cut up)
1 large organic onion
2 organic carrots
4 stalks of organic celery
2 tablespoons organic apple cider vinegar
Optional: 1 bunch of organic parsley, 1 tablespoon of sea salt, 1 teaspoon peppercorns, additional herbs/spices to taste.
Add 2 cloves of organic garlic for the last 60 minutes of cooking.
Use a large stock pot (16qt+) to cook the broth in and a strainer to remove the pieces when it is done.
==== Bone broth cooking instructions
The first step in preparing to make broth is to gather high quality bones. Get Pastured and Grassfed Organic Bones.
Aim for 2 pounds of each different type of bone per gallon of water to make gelatinous broth. For extra gelling add 2-3 chicken feet per gallon of water (completely optional! - Some people don't enjoy the taste of them).
If using raw bones, it greatly improves the overall flavor to roast them in the oven first. Place bones in a roasting pan and roast for 60 minutes at 375 degrees.
After roasting, place the bones in a large stock pot. Pour high quality water over the bones and add the apple cider vinegar.
Let all bones sit for 20-30 minutes in the cool water. The apple cider vinegar helps make the nutrients in the bones more available.
Chop and add the vegetables (except the parsley and garlic, if using) to the pot. Add any salt, pepper, spices, or herbs, if desired.
Bring the bone broth to a boil. Once it has reached a running boil, reduce to a low simmer and simmer until done.
====Recommended Simmering Times:
Beef broth/stock: 48 hours
Chicken or poultry broth/stock: 24 hours
Fish broth: 8 hours
One can always simmer for less time, but this recommended times will produce a consistent, high quality product.
During the first several hours of simmering, remove any impurities that float to the surface.
During the last 60 minutes, add the garlic and parsley, if using.
Remove from heat and let cool slightly.
Strain using a fine metal strainer to remove all the bits of bone and vegetable.
When cool enough, store in glass jars in the fridge for up to 5-7 days, or freeze for later use.
When the broth is cooled in the fridge the fat will create a layer at the top. It is recommended to remove this fat layer as most people do not like the taste of it.
If there's no time to make your own bone broth but would like the convenience of home delivery order bone broth from Au Bon Broth Bone Broth