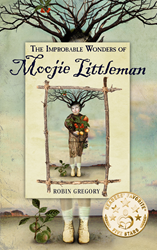 Whether they were Hostiles or cannibals or the ghosts of dead dinosaurs, Moojie was going to find them.
Carmel, CA (PRWEB) October 12, 2015
Moojie Littleman has never been much good at controlling his spiritual healing powers. Abandoned at birth to a convent in 1892, he amuses himself by magically snuffing out candles with the blink of an eye, or by sending objects into flight with the power of his mind. When he doesn't get his way, he causes the wind to rip off the nuns' veils and flash their knickers. He is not much good at being part of a family either. Adopted before his first birthday, his parents soon realize that he cannot walk or talk or learn like most children, and he has a whopping temper. When Moojie is eight years old, he performs a healing miracle, and also loses his mother to a freak accident. His disapproving father sends him to live at St. Isidore's Fainting Goat Dairy with his grandfather, and then disappears. Moojie's outcome lies in the balance as he strikes up a forbidden friendship with an otherworldly clan of outcasts who call themselves the Light-Eaters. When a natural disaster strikes, Moojie must decide whether to escape through a portal into another universe with the clan and the girl he loves or save the only family he has, therefore fulfilling a surprising destiny.
"Great! Who would have thought that a fiction book about a hesitant, lonely, and abandoned-in-infancy cripple could be so moving, so touching and, yes, so human-wise convincing."—Ruth Finnegan, author of Black Inked Pearl
"Robin Gregory's writing is both mythical and mystical, carrying the reader along the edges of reality. Moojie's tale is gripping and I couldn't put it down. The message carries the wit and wisdom each of us must use to bring us to who we really are from the inside out!" —Veronica Entwistle, BBS Radio
"Wow! Wonderful lyricism and magical reality. Captivating." —Lisa Rojany, author of award-winning Surviving the Angel of Death
"Gregory's storytelling skills are inspired and make this mythologically-based, historical novel a delight to read. Some passages are so lovely that I found myself rereading them to more fully appreciate the masterful blending of sound, sense and meaning." —Reader's Favorite
"The Improbable Wonders of Moojie Littleman" will be released November 1, 2015. Click here to pre-order copies from Amazon.
Robin Gregory has worked as a journalist and lay minster. She lives in California with her husband and son.
Publisher: Mad Mystical Journey Press, an imprint of Wyatt-MacKenzie Publishing, Inc.
Paperback $14.00 ISBN 978-1-942545-00-2
eBook $6.99 ISBN 978-1-942545-01-9
294 pages