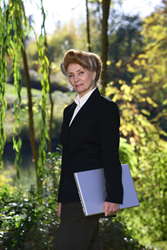 Grants Pass, OR (PRWEB) October 01, 2015
Most people over age 50 were taught that the body can't generate new brain cells after about age 20 and that after about age 45, the body begins losing brain cells. Brain cell loss can cause memory problems and lead to Alzheimers and dementia. It turns out that the human body can generate new brain cells at any age (the process is called "neurogenesis"). Furthermore, brain cell production can be increased through diet, a holistic lifestyle, and prevention of dehydration. The result is a longer, healthier life and reduced risk of Alzheimer's, heart disease, cancer and depression.
That was the message of "Neurogenesis Diet" advocate Brant Cortright, PhD in an interview on the Sharon Kleyne Hour® Power of Water® radio show of September 28, 2015. On the show, Kleyne and Cortright discussed neuroscience, Alzheimer's disease, dehydration, the Omega-3 diet, the holistic lifestyle and neurogenesis.
Brant Cortright, Ph.D., is a clinical psychologist and Professor of Psychology at the California Institute of Integral Studies in San Francisco. His practice specializes in cutting-edge brain health and neuroscience-informed therapy. He is author of "The Neurogenesis Lifestyle and Diet," (Psyche Media, 2015).
The globally syndicated Sharon Kleyne Hour® Power of Water® radio show is heard weekly on VoiceAmerica (Health and Wellness, and Variety Channels) and Apple iTunes. The education oriented show is sponsored by Bio-Logic Aqua® Research – Water Life Science®, founded by Kleyne and specializing in fresh water, the atmosphere, body surface evaporation and dehydration. The Research Center's signature product is Nature's Tears® EyeMist® for dry eye.
With proper diet and hydration, and a holistic lifestyle (balanced between mind, body and spirit), according to Cortright, new brain cell production can be increased by 500 percent. The new neuron cells will have a higher survival rate and old neuron cells will also survive longer.
The primary villain in the quest to improve brain function is sugar. The hero is Ω-3 (omega-3) fatty acids. There are three kinds of Ω-3's, Cortright explained. They are called "ALA," "EPA" and "DHA." Human bodies require the DHA form, which is only obtained from animal based foods such as meat, fish, butter, eggs, etc. The typical vegan diet is very low in beneficial Ω-3's. Most plants, including flax seeds, contain only ALA, which is not beneficial to humans. Plants such as avocados, nuts and blueberries contain EPA, which can be converted by the stomach to DHA. A new plant based Ω-3 supplement made from algae was recently introduced.
Most vegetable oils contain neither DHA or EPA. Furthermore, Cortright notes, butter and lard, which do contain DHA, can have it destroyed by deep frying and high temperature cooking. So can foods cooked at high temperatures. Cortright recommends slow cooked meats. Smoked meats are ideal, Kleyne adds, as long as they are preservative free.
The human brain, according to Kleyne, is 90 percent water (and 30 percent fat). It would stand to reason that supplying the brain with adequate water is crucial to brain health. Dr. Cortright noted that his mother-in-law was diagnosed with early Alzheimer's and at the same time was told she was dehydrated. When she started drinking more water, the Alzheimer's disappeared.
Kleyne observed that the brain is closely connected to the eyes. Of the 12 cranial nerves, five of the first six are related to vision. The only two cranial nerves that come directly from the brain are the olfactory nerve (smell) and the optic nerve (vision). The others come from the brain stem. Eye health, according to Kleyne, is a predictor or harbinger of brain health. If the eyes have problems, the brain likely does also. If the eyes are dehydrated, the brain likely is also.
Neurogensis research, according to Cortright, has been lagging because it does not lend itself to drugs or big pharma. Most of the requirements for increasing brain cell production, in fact, can be met through inexpensive food and water, exercise, plenty of sleep, proper breathing (from the diaphragm not the shoulders), relaxation and meditation. Except for food and water, and possibly a DHA based Ω-3 supplement, the holistic lifestyle is free and readily available to just about everyone.
©2015 Bio-Logic Aqua® Research – Water Life Science®. All rights reserved.