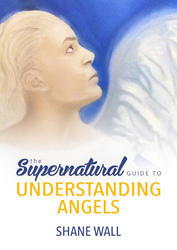 I effectively teach these methods to people of all ages, because teaching transfers ability from one person to another
ORANGEBURG, SC (PRWEB) October 07, 2015
Today's movies, television shows and books bombard us with images of wizards, witches, warlocks, demons and the like. A casual observer would believe that the supernatural has only to do with the dark side. In his "...pioneering angel book," The Supernatural Guide to Understanding Angels, Shane Wall, however, lays out the case that God created both the seen and the unseen, and He gives access to the invisible realm. Wall experiences the hidden world of angelic beings, and has done so since his childhood. He shares valid accounts of his encounters and details how each of us have the potential to experience the supernatural.
It's exciting to know that anyone can have angelic encounters, Wall explains: "I don't have a gift to see angels. I have an ability to see their activity and other supernatural happenings..." Wall said. He continued by saying, "Because I have the ability, I effectively teach these methods to people of all ages, because teaching transfers ability from one person to another."
Shane Wall, a senior pastor and international speaker of over 31 years, points out that Satan's followers fervently seek access to the supernatural realm to further the cause of the occult world. He argues that many Christians are afraid of workers of the dark arts, because they benefit more from the spirit realm than Christians do, but he's discovered an understanding that can change all of that.
Within the pages of The Supernatural Guide to Understanding Angels, seekers will find a practical guide to finding and knowing the will of God, and will also receive insights into why we would want to gain access into the spiritual realm with the proper mindset and motivation.
The fact that Wall is clear in saying that God is in control and commands His angels, reassures those who are skeptical of literature regarding angelic beings. This book boldly imparts that rather than seeking angelic intervention, all should seek God, Who commands and assigns the angels.
The times are perfect for Shane Wall's insightful teaching. People are clearly unsettled right now due to what's going on in the world around them. The Supernatural Guide to Understanding Angels packs a powerful message that can turn a focus gone awry onto the reality of spiritual truth that's permissibly available in the invisible realm.
Contact David Marshall for interviews/speaking engagements: 803-395-0190, david(at)shanewall(dot)com, http://www.shanewall.com