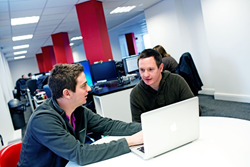 Manchester, UK (PRWEB UK) 2 October 2015
The company, whose headquarters are located in Teesside, recently opened a new base on King Street, Manchester, and the eCommerce provider has already welcomed it's first employee to the new office.
The agency also has offices in Newcastle and London, and is due to relocate into a new HQ in Teesside later this month.
Visualsoft's CEO, Dean Benson said "After the successful development of our London and Newcastle offices, we've targeted a base in the North West as we have a number of key clients in the region."
"We're thrilled to be bringing Visualsoft to Manchester - we've been made to feel very welcome!" he added.
Visualsoft has seen huge organic growth over the last three years following the opening of two new offices across the UK and a substantial increase in the number of new clients.
Since it was established in 1998, the company has grown at an average rate of 300% per year, and now has a portfolio of over 1300 clients from the UK and Europe.
Along with it's innovative product and service offering, VIsualsoft also has a pioneering approach to people management. In addition to unlimited paid holidays and flexible working, the company offers staff free breakfast, free protein and health supplements, and subsidised gym memberships to keep employees healthy and motivated. For more information about Visualsoft, visit http://www.visualsoft.co.uk/careers.