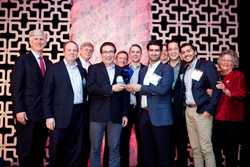 Herndon, VA (PRWEB) October 01, 2015
The Northern Virginia Technology Council (NVTC), the largest technology council in the nation, today announced that this year's TechCelebration: NVTC's Annual Banquet will be held on Oct. 19 at The Ritz-Carlton, Tysons Corner. The event will feature David Rubenstein, co-founder and co-CEO of The Carlyle Group; Pete Jobse, president and CEO of the Center for Innovative Technology (CIT); and the announcement of the winners of the 2015 Tech Awards.
Rubenstein will make remarks in accepting the Pinnacle Award for his outstanding leadership and contributions to the region. Rubenstein is a financier and philanthropist and is among the group of billionaires who have pledged to donate more than half of their wealth to philanthropic causes or charities as part of The Giving Pledge.
In addition, NVTC will present the Chairman's Award to Pete Jobse, who transformed CIT into a technology consulting and venture investing organization dedicated to accelerating research commercialization, innovation, startup company formation and technology assimilation in the Commonwealth of Virginia. He will be retiring from his role at year's end.
TechCelebration will also feature the presentation of the 2015 NVTC Tech Awards, a new awards program highlighting innovative companies/firms and influential leaders. Congratulations to the following finalists:
NVTC Associate Member of the Year
Blackstone Counsel
Sage Communications
Silicon Valley Bank
Tech Executive of the Year
Marilyn Crouther, HP Enterprise Services
Lisa Hook, Neustar
Neil Siegel, Ph.D., Northrop Grumman Information Systems
Barry Barlow, Vencore
Rodney Rogers, Virtustream
Innovative Use of Technology
Fairfax County Public Schools
PFP Cybersecurity
Social SafeGuard
Virtustream
XO Communications
Tech Company of the Year Under $50 Million in Revenue
Avizia
BlackMesh
Endgame
Optoro
ThreatConnect
Tech Company of the Year Over $50 Million in Revenue
Appian
Opower
ScienceLogic
Virtustream
DATE: Oct. 19, 2015
TIME: 5:30 – 6:30 p.m. Registration and Networking
6:30 – 9:15 p.m. Dinner and Program
LOCATION: The Ritz-Carlton, Tysons Corner
1700 Tysons Blvd, McLean, VA
REGISTRATION: To register as a member of the press, please contact Sarah Jones at
703-904-7878 ext. 207 or email sjones(at)nvtc(dot)org.
The event is free for press but advanced registration is required. Press credentials are required for entry.
# # #
The Northern Virginia Technology Council (NVTC) is the membership and trade association for the technology community in Northern Virginia. As the largest technology council in the nation, NVTC serves about 1,000 companies from all sectors of the technology industry, as well as service providers, universities, foreign embassies, nonprofit organizations and governmental agencies. Through its member companies, NVTC represents about 300,000 employees in the region. NVTC is recognized as the nation's leader in providing its technology community with networking and educational events; specialized services and benefits; public policy advocacy; branding of its region as a major global technology center; initiatives in targeted business sectors and in the international, entrepreneurship, workforce and education arenas; the NVTC Foundation, a 501(c)(3) nonprofit charity that supports the NVTC Veterans Employment Initiative and other priorities within Virginia's technology community; the Equal Footing Foundation, a 501(c)(3) nonprofit charity that serves local area youth; and The Entrepreneur Center @NVTC, which mentors new technology entrepreneurs. Visit NVTC at http://www.nvtc.org.