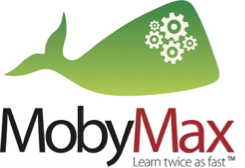 "We receive hundreds of kudos from teachers each week, but it is especially gratifying to receive the EDDIE Award," said MobyMax co-founder Wade Willett
Potomac, MD (PRWEB) October 01, 2015
MobyMax, innovator of personalized and blended learning curriculum for K-8 students, earned the 2015 Education Software Review (EDDIE) Award for best Multi-Level Multi-Subject Website. Presented by ComputED Gazette, the award honors publishers offering a variety of content that supplements existing curriculum, increases teacher productivity, and engages parents to encourage educational excellence.
"We receive hundreds of kudos from teachers each week, but it is especially gratifying to receive the EDDIE Award," said MobyMax co-founder Wade Willett. "As we continue to release new curriculum each month, it is an honor to be recognized for our excellence."
MobyMax co-founder Glynn Willett added, "We have three early reading modules ready for release next week, phonetics slated for release at the end of November, and blended words ready by January 1st."
The ComputED Gazette is a valuable educational resource, having served the education community for more than 21 years. The award selection criteria include academic content, potential for broad classroom use, technical merit, subject approach, and management system. Publishers worldwide submitted programs in more than 50 award categories.
"MobyMax is an impressive educational website that provides an extensive K-8 curriculum for ELA, Math, Science and Test Prep," according to EDDIE Award reviewers. "After an initial (interactive) placement test, the adaptive curriculum creates a unique, individualized education plan so that gifted students can progress at a faster rate while remedial students get the extra instruction they need."
For more information about MobyMax curriculum visit http://www.mobymax.com/Curriculum/Overview.
About MobyMax
MobyMax unlocks the power of personalized and blended learning to help students learn twice as fast. The company offers the only complete K-8 curriculum covering English language arts, math and science. MobyMax identifies skill gaps with find-and-fix technology that targets instruction and helps students increase one full grade level in just 40 hours. Moby's comprehensive system includes multiple motivation tools, test prep, assessments, messaging, parent portal, classroom clicker, and progress monitoring. MobyMax is used in more than half of all K-8 schools in the United States and has more than 11 million students registered. For more information, visit http://www.mobymax.com.