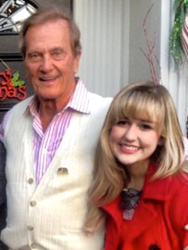 Ryan's Reach was founded by Pat Boone after his grandson, Ryan Corbin, who once suffered a traumatic brain injury.
Los Angeles, CA (PRWEB) October 01, 2015
Nashville recording artist Mary Desmond will perform as part of the festivities at the fifteenth annual Dove Dash 5K and 10K fund raising run on Sunday October 4, 2015. The run takes place at 22682 Golf Club Drive, Dove Canyon; CA. Miss Desmond will be performing on the main stage starting at 8:00 a.m.
The Dove Dash helps raise money for "Ryan's Reach" which is a charity that provides scholarships to people who have suffered traumatic brain injuries and need financial help to receive treatment and rehabilitation. "Ryan's Reach" was founded after Ryan Corbin, who suffered a traumatic brain injury. Mr. Corbin is the grandson of legendary entertainer Pat Boone.
Internet Sensation Mary Desmond
Among other things, Miss Desmond will perform songs from her upcoming E.P. along with other original and "cover tunes" that have made her a You Tube and Twitter phenomena. Miss Desmond has over 53,000 Twitter followers. She has nearly that same number of subscribers on her You Tube channel where her musical videos have been viewed over 12 million times. "I am really happy to be able to help support Ryan's Reach and Dove Dash," she said. "There are so many people who benefit from the proceeds of Dove Dash through Ryan's Reach and from the care they receive at High Hopes Neurological Recovery Group." "High Hopes" is the location where people like Ryan Corbin and others receive the rehabilitation they need to resume their lives after suffering a brain injury.
High Hopes Neurological Recovery Group
Over the years, the majority of funds raised through the Dove Dash delivered aid to brain injured individuals and their families by providing financial resources to High Hopes Neurological Recovery Group, Inc. High Hopes is a public charity based in Orange County, California. The Dove Dash will raise from $40,000.00 to $50,000.00. As a non-profit, High Hopes can deliver rehabilitation services to people at a tenth the cost of a private institution. High Hopes Head Injury Program is a bastion of hope for those facing difficult financial problems. High Hopes is the lowest cost program of it's kind in the nation. In addition, High Hopes offers scholarship assistance for many of our students otherwise unable to afford a program. The funds from Dove Dash will help finance some of those scholarships.
Details About Dove Dash
The run will take place inside the community of Dove Canyon, California. This race typically attracts up to 800 runners. Both races start at the corner of Sycamore Canyon and Dove Canyon Drive, just inside the gates of Dove Canyon, and end at the Dove Canyon Country Club.
Registration information for Dove Dash is available at
http://www.runningguru.com/EventInformation.asp?eID=14212.
CAPTION: Legendary entertainer Pat Boone with Mary Desmond. Miss Desmond will perform at the 15th annual Dove Dash 5K and 10K run to benefit Ryan's Reach.
For More Information Contact Harold Nicoll, APR, 979 292 8026, haroldnicoll(at)gmail.com.