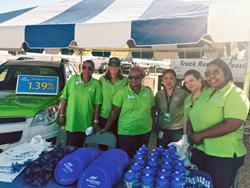 Suitland, Maryland (PRWEB) October 01, 2015
Andrews Federal Credit Union recently served as the Premier Sponsor for the 2015 Joint Base Andrews Air Show, including the AirFest Party. The Show commemorated the U.S. Air Force's 68th birthday and the 100th anniversary of the Naval Reserves.
More than 30 current and vintage aircraft from a variety of military services and organizations were on display including the F-35 Lightning, the U-2 Dragonlady, the CV-22 Osprey and NASA's Super Guppy.
"It was an honor to sponsor this amazing event," said Oma George, Chief Retail Officer. "There is no better way to celebrate 68 years of Air Force history than with a dazzling display of aerial maneuvers, static displays of former war planes, missiles and more."
The airshow returned to Joint Base Andrews after a three year hiatus. Tens of thousands made their way to the base for the day's activities.
About Andrews Federal Credit Union
Andrews Federal Credit Union was founded in 1948 to serve the needs of military and civilian personnel by providing a vast array of financial products and services. With over $1 billion in assets, Andrews Federal has grown to serve more than 113,000 members in the District of Columbia, Joint Base Andrews (MD), Springfield, Virginia (VA), Joint Base McGuire-Dix-Lakehurst (NJ), and military installations in central Germany, Belgium, and the Netherlands. In addition, the Credit Union serves as a financial partner with many select employee groups in Maryland, the District of Columbia, Virginia and New Jersey.
To learn more about Andrews Federal Credit Union and its community involvement, or to become a member, call 800.487.5500 or visit http://www.andrewsfcu.org.