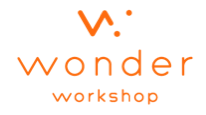 San Mateo, Calif. (PRWEB) October 01, 2015
Wonder Workshop, creators of robotics and hands-on play that makes computer science accessible to young, curious minds, today launched 'Wonder', a coding language designed uniquely for kids, available through the same-named Wonder app for iOS. Designed to code the way we think, Wonder is used with the award-winning real robots, Dash and Dot, making robotics a delightful experience for every child. The Wonder app is available for free download for iOS now, and will be released for Android later this month. The Wonder app will be available to use on iPhone 4S and newer, iPad Minis, and iPad 3 and newer.
Robotics combines hands-on play and on-screen manipulation to provide the best avenue for children to learn the basics of Computer Science. The Wonder app features an interface designed for children, combining unstructured play with hundreds of in-app challenges to guide them to success. Enabling children to explore the vast capabilities of Wonder Workshop's real robots, Dash and Dot, the Wonder app puts advanced robotics programming in the hands of children at a young age.
"Coding and robotics are 21st century building blocks that give children the power to create, be curious, and succeed," stated Vikas Gupta, Co-Founder and CEO of Wonder Workshop. "We've developed a language that gives our plans and intent an immediate visual form with the touch of a finger. This intuitive interface will help every child discover robotics as never before, and bring robots like Dash and Dot to life with their creativity."
Designed for children 8 and up, kids use the Wonder app to program Dash and Dot's capabilities, developing elaborate behaviors for the robots. Dash and Dot become more capable as children discover new abilities through their coding experiments, advancing through project-based puzzles and gaining 'Bot IQ' for their robots as they explore the Wonder app.
With the launch of the Wonder app, Wonder Workshop also releases Dot as a standalone product at $49.99, offering every kid access to critical computer science experiences. Dot is the brains of a robot, and comes with multiple games children can play – and later program these themselves – right out of the box, such as a Magic Dot Ball, a Light Sword, Dot Pong, and the Dot of Music. The Wonder app comes with hundreds of in-app challenges for children to explore robotics with Dot.
"With Wonder and our other free apps, kids have access to hundreds of robot games to play with. As children get to know the brains of these smart robots, and gain an understanding of how they work and what they can do, kids become creators and invent new games all on their own," added Saurabh Gupta, co-founder and CTO of Wonder Workshop.
Working with an iPad or tablet and the full suite of free Wonder Workshop apps, Dash and Dot were created with the mission to bring coding and robotics to children at a young age, while making real robotics accessible and affordable to families everywhere. Dash and Dot are sold globally and are also adored by teachers in over 600 elementary schools across the US and internationally.
Available at http://www.MakeWonder.com, as well as on Amazon.com and in Apple retail stores, Dot is available for $49.99, and Dash is available for $149.99.
For more information about Wonder, visit http://www.makewonder.com
For press materials, please visit: https://www.makewonder.com/mediakit.
About Dash and Dot
Dash and Dot are award-winning real robots that every child can program using coding languages invented uniquely for young minds. Engaging right out of the box, Dash and Dot's thoughtful design guarantees that the fun keeps pace as children grow. Dash and Dot come with five free apps for kids to connect with, including the innovative visual programming language, Wonder, and redesigned version of the block-based programming tool Blockly, that offers never ending in-app challenges to keep kids engaged for a long time to come. For additional ways to play, kids can visit http://www.makewonder.com for new project and play ideas from the Wonder Workshop community, and the ongoing web video series, The Dash and Dot Show. Dash and Dot are available to purchase on Amazon.com as well as the Wonder Workshop website makewonder.com, and in Apple retail stores.
About Wonder Workshop
At Wonder Workshop, we create robotics and hands-on play that make computer science accessible to young, curious minds. With a shared belief that every child should have the opportunity to find delight in computer science and robotics, Wonder Workshop was founded in 2012 by Vikas Gupta, Mikal Greaves and Saurabh Gupta, inventors, designers, programmers and parents. The company has currently raised $15 million in funding from Madrona Venture Group, Charles River Ventures, WI Harper and Google Ventures. For more information, visit http://www.makewonder.com.
Wonder Workshop contact: June Lin, 415-680-6967, june(at)makewonder(dot)com
PR contact: Kelsea Kierstead, 608-216-7300 ext. 24, kelsea(at)cblohm(dot)com
###