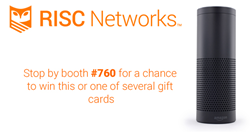 I was excited to see the Cloudscape Tool and what's in there about our environment. This is a pretty powerful capability that makes the job ahead seem possible
Las Vegas, NV (PRWEB) October 05, 2015
Asheville, NC based company RISC Networks has launched a program offering complimentary platform access to potential AWS customers. The program is meant to help organize an application centric view of a customer's environment so they can drive action with real data. This allows access for one month to the full capability which offers discovery of, but not limited to, all on premise assets, network bandwidth requirements, application/server dependency, and AWS instance matching based on performance. This is a limited offer awarded on a first come first served basis. More information about the program is available at http://www.riscnetworks.com/cloudscape/free/.
RISC Networks will be demonstrating its award-winning analytics for cloud and data center transformation at AWS re:Invent. This includes their latest Application Centric Visualization (ACV) technology. ACV visualizes complex IT Infrastructure data in a simplistic way that provides real, actionable data that IT leaders can make decisions from.
RISC Networks and their partners have a history of collaboration that has resulted in several major corporations using RISC Networks' CloudScape to visualize their entire IT infrastructure before successfully moving workloads to AWS. RISC Networks' technology can help IT teams free up resources when evaluating and planning complex data center and cloud migration and transformation projects. CloudScape has been beneficial in planning cloud migrations or data center transformations for several IT teams and executives including Steve Cretney, CIO of Colony brands. He stated, "I was excited to see the CloudScape Tool and what's in there about our environment. This is a pretty powerful capability that makes the job ahead seem possible".
In addition to being a Standard Technology Partner in the AWS Partner Network (APN), RISC Networks has an ever growing list of cloud and data center partners that are actively using CloudScape with their clients to visualize their application and network environment, which also helps uncover performance issues and to improve efficiencies before and during cloud migrations. Some of these partners will also be exhibiting at AWS re:Invent, which includes 2ndWatch (booth # 626), Day1 Solutions (booth # 812), and Racemi (booth # 1253).
AWS re:Invent is the AWS annual user conference. The event features keynote announcements, training and certification opportunities, over 250 technical sessions, a partner expo, after hours activities, and more. More information about the event is available at https://reinvent.awsevents.com/
Based in Asheville, North Carolina, RISC Networks offers award winning analytics and has been recognized by Gartner and 451 Research as an innovator in cloud management technology. For the last eight years, RISC Networks has been focused on developing research and technology that helps organizations improve their IT operations in areas such as Cloud Computing, Virtualization, Core Network Infrastructure and Unified Communications.