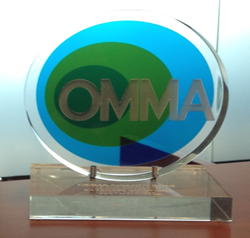 Bayshore Solutions is truly honored to be selected among such impressive brands and agencies for this 2015 OMMA Award
Tampa, FL and Denver, CO (PRWEB) October 01, 2015
The Online Marketing Media and Advertising (OMMA) Awards winners announced Bayshore Solutions' University of South Florida Center for Advanced Medical Learning and Simulation (CAMLS) as the Best Education Website of 2015. The awards, produced by MediaPost, were announced at the 2015 OMMA Awards dinner and reception on Monday, September 28th, during Advertising Week in New York City, where the award was accepted by Bayshore Solutions Vice President, Jay Wiley, and Paul Ayres, USF CAMLS Director of Sales, Marketing and Business.
The OMMA Awards were created in 2004 to honor agencies and advertisers that push the potential of digital advertising and recognize the best campaigns in the industry.
CAMLS partnered with Bayshore Solutions to design a world-class website to show the advanced capabilities of the center as well as attract interest, projects and support funding. Features of the website include a clean layout and vivid imagery to showcase the state-of-the-art healthcare training facility. Interactive features include a 360-degree virtual tour and map of CAMLS and flipbook functionality for the Center's brochures presented on the fully responsive website, enabling easy browsing on any device.
USF CAMLS website won over finalists, Univision Communication's Parent's Portal and Sylvan Learning's Campaigns by Centre websites. The 2015 OMMA Awards are Bayshore Solutions' second consecutive year of winning for website design excellence. In 2014, Bayshore Solutions' TapShield website won the OMMA award for Best Technology Website over AAA's TripAdvisor and Time-Warner Cable's WiFi-Denti-Fier websites.
"Bayshore Solutions is truly honored to be selected among such impressive brands and agencies for this 2015 OMMA Award," said Kevin Hourigan, President and CEO of Bayshore Solutions. "We are proud of the websites and digital campaigns we create for our customers. We're very proud to partner with CAMLS and provide the digital services that showcase and support this nationally acclaimed, state-of-the-art medical learning facility."
"We are thrilled at the early results and new business leads the CAMLS' website and digital campaign have delivered," said Debbie Sutherland, PhD and CEO of CAMLS. "This national recognition is another validation that our joint investment with Visit Florida, Bayshore Solutions and our USF Creative team is expanding brand engagement, and driving business and new dollars to the Tampa Bay market."
Read more about the 2015 OMMA Award winning CAMLS website here: http://www.bayshoresolutions.com/ideas/bayshore-projects/camls/?utm_source=vocus&utm_medium=pressrelease&utm_content=omma-winner&utm_campaign=prel-sept-29-15
View more of Bayshore Solutions' award winning results in web design and digital marketing here. http://www.bayshoresolutions.com/about-us/awards/?utm_source=vocus&utm_medium=pressrelease&utm_content=omma-winner&utm_campaign=prel-sept-29-15
About Bayshore Solutions
Digital marketing agency, Bayshore Solutions, offers award-winning capabilities for custom web design, website development, e-commerce, and Internet advertising. Founded in 1996, the website design and digital marketing agency delivers custom web applications and marketing services throughout the USA and internationally. From offices in Denver, Colorado, Tampa and Miami, Florida, Bayshore Solutions integrates technology and marketing expertise to ensure measurable results for customers.
# # #