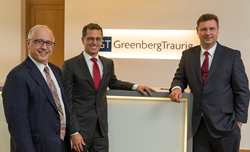 New York (PRWEB) October 01, 2015
Renowned global law firm Greenberg Traurig, LLP today opens its 38th office in Berlin with the whole team of the former Berlin office of Olswang. Operating as Greenberg Traurig Germany, the 55 lawyers intend to further develop their transactional practice focusing on the real estate and the technology industry and continue their growth strategy.
Through the access to the global network of Greenberg Traurig with presences among others in the economic and financial centers of New York, London, and Shanghai, as well as technology centers Silicon Valley, Miami, Tel Aviv, and Seoul, the 14 partners and their teams will be able to provide even more comprehensive advice on cross-border transactions. Furthermore, they want to increase the number of lawyers by one third over the next few years.
"Even with over 1,900 lawyers in 38 cities, and standing among the very largest law firms in the United States, our culture of trust, respect, top quality, collaboration, extraordinary value, and the empowerment of our people on the ground, is as strong and vibrant as ever. We have established our new German office as we did all others: we were patient and chose the right team at the right time to start strong and in the best interest of clients and their global needs, with empowered leadership on the ground," said Richard A. Rosenbaum, chief executive officer for Greenberg Traurig. "We are also pleased that in this move we bring our top tier real estate, M&A, technology, media, and restructuring practices into Germany. By taking this step, we are the only law firm present in all of the key global technology markets. "
"The fact that we have found each other is extremely fortunate – the perfect fit so to say. We share a strong entrepreneurial spirit and practice strengths. This focus and the rare combination of global strategy with local empowerment are the ideal basis to successfully continue our dynamic growth," said Christian Schede, managing partner of Greenberg Traurig Germany.
Peter Schorling, head of the German Corporate/M&A group, added: "We are already known for our well- established practice; nevertheless, we want to further expand our advice on transactions in, among others, the technology, media, and real estate sectors. Henrik Armah's appointment as new partner to the Corporate team is just a first step."
About Greenberg Traurig, LLP
Greenberg Traurig, LLP is an international, multi-practice law firm with approximately 1,900 attorneys serving clients from 38 offices in the United States, Latin America, Europe, Asia, and the Middle East. The firm is No. 1 on the 2015 Law360 Most Charitable Firms list, third largest in the U.S. on the 2015 Law360 400, Top 20 on the 2015 Am Law Global 100, and among the 2015 BTI Brand Elite. More information at: http://www.gtlaw.com/.