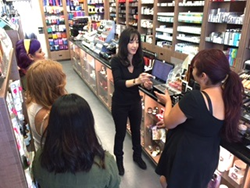 The time has come for us to address the issue of educating guys.
Los Angeles, CA (PRWEB) October 01, 2015
In response to recent Mintel reports that the man make-up category is opening up and needing products to fill it, MENAJI Advanced Men's Skincare, which has been providing undetectable concealers and anti-shine powders for years, has decided to educate the willing and curious male public through thorough consultant training.
"The time has come for us to address the issue of educating guys and reiterating our mantra to professionals. The pros already know and understand how to use MENAJI, but the male consumer should also know how easy these products are to use," said MENAJI President Pamela Viglielmo.
MENAJI Training began at a Los Angeles beauty store Frends Beauty Supply, founded in 1940 by the original owner Sig Frends, and one of the world's largest professional beauty establishments open to the public, supplying the majority of the large-budget films and TV shows. The store features more 20,000 different professional beauty supply products within its 15,000 square feet of space.
Frends staff said that their professional clients who use only the very best products said that MENAJI is ideal for their male clients because there is no down time, doesn't cause redness, is undetectable and can even be taken on location.
Viglielmo says that the company knows that looking young and healthy to most guys means a bar of soap and tanning, with the occasional anti-aging cream. But if they were a little better educated, said Viglielmo, they might also try a safer sunless tan, which might be a better solution than harmful UV rays.
"Men who dress well and work out, want to present themselves at their best to the world," said Viglielmo. "They are taking the step to include skincare that delivers immediate results in their routines. To provide better outcomes for them, we initiated a training at Frends for their staff on the ease of application and instant benefits of MENAJI."
Frends Beauty Director of Marketing Matt Morelli said, "We're excited to begin working with the MENAJI brand and the team behind it. Men's grooming isn't a new concept, but it is one that we think needs more attention because - guys, a bar of soap doesn't always cut it. I'm a man's man and I admit, I tried it and it is amazing. With so many brands at Frends Beauty specifically formulated for women, we're happy to offer a line that caters to the needs of men as well."
About MENAJI
Mënaji Advanced Men's Skincare, is an iconic, unique brand of men's skincare that is the original a category creator for Hi-Def, undetectable, camera-ready men's cosmetics. MENAJI was founded in 2000 by a celebrity make-up artist. Sold in America and overseas in more than 20 countries, the Mënaji product line is Made in the USA with natural botanicals.