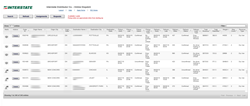 The visibility and flexibility to choose freight with Freedom is an amazing tool for an entrepreneurial trucking business owner.
Tacoma, Wash. (PRWEB) October 01, 2015
Interstate Distributor launched "Freedom," its self-dispatch program for owner operators. Utilizing web based technology, Freedom delivers flexibility and freight visibility for owner operators to run their business as they choose. Freedom maximizes revenue potential while meeting and balancing the schedule and service area that best meets the needs of the owner.
Freight opportunities are solid and reliable year-round creating more consistent revenue for an owner operator's business. Interstate partners with many of the Fortune 500 shippers in America providing a large selection of lanes to service. These strong customer relationships and contractual agreements provide owner operators a wide range of freight options to meet their business needs.
"The ability to plan further ahead and select loads I like has changed my business in a big way. I choose freight based on revenue, routes I like to drive, and getting home when I want to," said Tim Mitchell, an Interstate owner operator who has been piloting the Freedom platform.
Loads can be selected 72 hours in advance, and owner operators can choose loads by revenue, customer, location, and mileage among other details. The visibility and flexibility to choose freight with Freedom is an amazing tool for an entrepreneurial trucking business owner.
"With the shortage of owner operators in mind, we're compelled to create solutions that will attract the best owner operators to partner with Interstate," said Interstate CEO Marc Rogers. "For owner operators, Freedom offers the most control over revenue, scheduling and running area of any other current offering, and we're proud of the effort and technology that has made the program possible."
The platform is initially available for drivers residing in select markets. Availability will expand in the future. Information for interested owner operators is available at Driveinterstate.com or by calling 877-357-0500.
About Interstate Distributor
Established in 1933, and headquartered in Tacoma, Wash., Interstate Distributor is a leading provider of transportation services. Services include local, regional and transcontinental dry van solutions. Interstate continues to grow and expand in refrigerated services, dedicated fleets, and intermodal and logistics management services. With terminal and yard facilities located in major markets throughout the United States, Western Canada and the Mexican border, Interstate has grown to establish a national presence in the transportation industry.