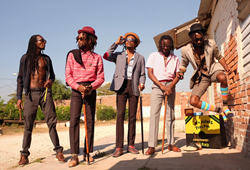 Really good, really talented and really smart
Miami, Fl (PRWEB) October 08, 2015
Jamaica's premier music and performance talent, No-Maddz, will bring their award winning act to the stage at the 3rd annual Caribe Arts Fest scheduled to be held in Miami on Saturday, October 24th, 2015. No-Maddz was originally formed as a Dub Poetry group and have evolved into an awesome, entertaining, musical act. No-Maddz has been receiving rave reviews for their talent and performances internationally. Music and business mogul, Chris Blackwell, said No-Maddz are "really good, really talented and really smart."
Opening festivities of Caribe Arts Fest on Friday, October 23 at 6:30pm will feature a book reading and signing of 'In The Morning Yah', a book of lead singer, Sheldon Shepherd's poetry, that was published earlier this year.
No-Maddz' recently released album of 2015 was described by MTV's Iggy as "first-rate," and, further, stated the band is "poised to offer great things." Eric Magni of United Reggae also raves about the album saying that it is "a joy from start to finish."
No-Maddz has been winning every conceivable award for their work and their list of achievements is undeniable. They have won the Jamaican Prime Minister's Youth Award for excellence 4 times; are the only act to receive a perfect score in the annual Jamaica Cultural Development Commission's performance arts festival; won a Best Actor award at the American Black Film Festival; and have an endorsement deal with shoe company, Puma, to name a few.
The group is well loved at home and has performed at several of Jamaica's major festivals, including Rebel Salute, Reggae Sumfest and The National Grand Gala. They have also performed at the Bob Marley One Love Concert and the Miami Jamaica Independence Day Festival, locally.
This cultural performance group will be featured on center stage for the 3rd Annual Caribe Arts Fest at the Little Haiti Cultural Complex in Miami. The celebration is set to entertain patrons from October 23rd through October 25th. Scheduled events include Friday night's DJ Party and Film Screening, Saturday's Live-Music Concert, and Sunday's Poetry Slam. There are also activities such as the Kids Zone, Fashion Shows, the College Students' Community Connection, Culinary Arts Presentations and much more for a total family fun experience. Weekend passes are only $20 while each day patrons may purchase a day pass for $10. Children under 12 are free. Tickets are available online.
For more details on times and schedules of events visit http://www.caribeartsfest.com
Event: Caribe Arts Fest
Date: October 23 - 25, 2015
Activities: Art exhibits | Music | Films | Workshop | Kids Art Zone
Locations: Little Haiti Cultural Complex, 212 NE 59th Terrace, Miami, FL
Adm: $10 / $20 Weekend pass. Children under 12 Free
Times: Friday, Oct. 23 – 6pm / Saturday, Oct. 24 & Sunday, 25 – Noon – 11pm.
The Little Haiti Cultural Complex inspires children of all ages through a rewarding Outreach Program. By providing a nurturing learning environment, they develop artistic skills and explore their hidden talents. This program includes summer workshops, a performing arts season, and numerous events. The vision is to stimulate young minds by encouraging artistic values and offering a quality interactive atmosphere. The center conducts programs in the visual and performing arts that are designed to appeal to a broad spectrum of diverse backgrounds, ability, and educational levels. We believe that there is an artistic spirit in all of us that nourishes our humanity and enriches our society.
The American Art Initiative (AAI) was established to support the development and expansion of the arts by maintaining an exchange of talent and creativity for cultural, social, and economic viability. Our team consists of artists who understand the needs of artists. The main aim is to create positive representation of independent artists, create support and outlets that develop leadership for progressive living.
Caribe Arts Fest is a multi-genre art festival celebrating the arts of the Caribbean and the Americas. In its 3rd year the festival will be held at the Little Haiti Cultural Complex, Miami, Florida from October 23-25, 2015.
The festival will showcase multimedia creations representing and encompassing the culture, essence and creativity of the Caribbean and the Americas. This annual event celebrates the artistic diversity of Miami and is positioned to attract travelers visiting Miami who have an interest in ethnic and heritage tourism. A display of contemporary trends in painting, photography, sculpture, performance arts, film, multimedia and much more from the USA, the Caribbean & Latin America.
For more information visit http://www.caribeartsfest.com or http://www.facebook.com/caribeartsfest.
Follow us on twitter at @CaribeArtsFest. For more information, please call (754) 273-7166 or email: michelle@globalflowpr.com
###