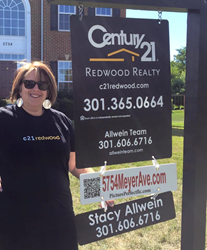 Over the course of the past year, our leadership team has examined the Frederick market from every angle -- and we believe in this town! We love everything about Frederick and are so excited to be part of the action. - Shawn Milletary, COO
Ashburn, VA (PRWEB) October 02, 2015
Redwood AdVenture, LLC, operating as CENTURY 21 Redwood Realty, announced today that it is opening an office in downtown Frederick, MD. The office, the company's 10th and first in Maryland, will be located at 154 N Market Street Suite 203, Frederick MD 21701.
Situated in the heart of downtown, the Frederick office will be anchored by The Allwein Team, a fixture in the local market real estate market, known for their excellent customer service. Stacy Allwein will act as CENTURY 21 Redwood's Team Leader during the office's initial growth period.
Allwein said, "After meeting the owners and management and learning how their business philosophies aligned so well with the goals I have to grow my business, I made the decision to join the Redwood family. Frederick needs something new and Redwood fits the bill. As an innovative company with state-of-the-art technology, it was really a no brainer for me!"
"I visited Frederick with my family late last summer and fell in love. We walked through downtown and when I came upon Baker Park I immediately thought, we need to open an office here! A hallmark of our new website system, launching in the coming weeks, is stunning neighborhood landing pages. I knew this beautiful location and our website would compliment one another," said Edward Berenbaum, President of CENTURY 21 Redwood Realty.
"Over the course of the past year, our leadership team has examined the Frederick market from every angle -- and we believe in this town! We love everything about Frederick and are so excited to be part of the action," adds Shawn Milletary, Chief Operating Officer.
CENTURY 21 Redwood Realty is a Principal Member of the Cartus Broker Network. The firm's proprietary broker and agent website platform is known for its home search that enables users to search by neighborhood and school boundaries.
####
About Redwood AdVenture, LLC
Redwood AdVenture, LLC is a leading real estate firm specializing in the sale of single-family homes, town homes and condominiums in Washington DC, Northern VA and suburban MD. Based in Ashburn VA, the firm has nine offices operating as CENTURY 21 Redwood Realty in Ashburn VA, Arlington VA, Montclair VA, Fredericksburg VA, Stafford VA, Locust Grove VA, Washington DC, and Frederick MD, and one office operating as ERA Elite Group REALTORS in Fairfax VA. With their cutting edge technology platform and affiliation with the iconic CENTURY 21 brand, consistently ranking as the most recognized name in Real Estate, Redwood's client-centered, agent-focused brand of real estate provides their clients boutique service with a truly global reach.
Web: http://www.c21redwood.com
Tweets: http://www.twitter.com/c21redwood
Facebook: http://www.facebook.com/century21redwoodrealty
Contact: Heather Elias
571-233-5491
heather(at)c21redwood(dot)com