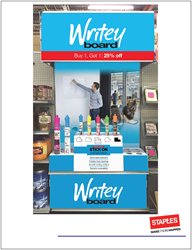 Whiteboards now transcend any space, inviting creative communication into all environments.
Westlake Village, CA (PRWEB) October 01, 2015
The ingenious and dynamic entrepreneurs of WriteyBoard have not only brought whiteboards to new walls, but are now bringing them to new shelves. WriteyBoard has shattered the confined boundary of a traditional whiteboard. Now it literally steps off the wall and offline, planting its feet in office supply superstore Staples on September 20th.
The inflexibility of a traditional whiteboard has been overcome by WriteyBoard's portable and reusable whiteboard adhesives and paint. Whiteboards now transcend any space, inviting creative communication into all environments. Whether it be a college dorm, a classroom, office space or the home, any area is now capable of creative collaboration.
WriteyBoard's products are engineered to be accessible and easy-to-use. With the academic year now in full swing, and Staples being the renowned back-to-school shopping destination, whiteboards are now closer to your fingertips than ever before. Students and teachers alike have access to a communication tool that will spark young minds and propel education to new levels and locations.
In the face of the growing trend of working remotely, WriteyBoard has studied and adopted the benefits of in-person, interactive environments. Also seeing these advantages, the CEO of Yahoo, Marissa Mayer, has voiced the need to move away from working remotely. Mayer firmly believes in a collective work culture where the best ideas come from pulling two different ideas together through interpersonal dialogue. WriteyBoard's emphasis on collaboration has proven to align with the values of Yahoo as well as many other globally known businesses such as Uber, Cisco, Microsoft and NASA who are actively using their products.
By moving into Staples WriteyBoard products can now be easily reached by their audience at a mass level. WriteyBoard can continue to expand the minds of children, teachers and professionals. Staples will be launching WriteyBoard's white and black foam boards as well as WriteyBoard's cloud bubble foam, quote bubble foam and weekly calendar foam products. Whether it be informal brainstorm, to-do lists or classroom lectures, everyone is granted access to participate in idea generation and new possibilities. To view these products visit WriteyBoard's website.
About WriteyBoard
WriteyBoard is a dry-erase technology leader whose products are revolutionizing creative communication. The WriteyBoard ideology of economy and accessibility offers everyone the opportunity to THINK OUT LOUD.