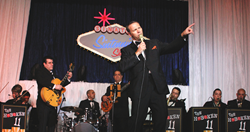 MENAJI is passionate about making a man look like a man. Sinatra Sintennial Show with Jeff Grainger is passionate about delivering authentic Sinatra.
(PRWEB) October 02, 2015
"The best revenge is massive success" says a quote by classic and iconic Hollywood crooner 'Ol' Blue Eyes' Frank Sinatra, and now the classic and iconic, #1 Hollywood men's skincare company is teaming up with the incredible talent of singer/producer Jeff Grainger, creator of Sinatra Sintennial Show – A Musical Tribute to Frank Sinatra on his 100th Birthday to bring you beautiful music.
Devastatingly handsome and talented performer Miami native Jeff Grainger, who has incredible vocals, has developed the breathtaking act worthy of Sinatra, by seamlessly channeling Sinatra's expressions and style. The "Sinatra Sintennial Show" is reminiscent of the ultra-cool crooner era coupled with authentic Vegas glitz and glamour. The vibrant and dramatic production features a 17-piece band, replete with back-up singers and showgirls.
And making sure Grainger looks as incredible as his voice sounds – MENAJI Advanced Mens Skincare is grooming the crooner.
"We are thrilled to be part of this amazing show! This is MENAJI! This is what we do – from making the entertainer look awesome on stage to allowing Jeff to keep his skin healthy while on the road with minimal effort, fixing everything from bags under the eyes from sleepless nights to covering up blemishes from roadie fast-food – our fast-acting skincare is the best for fast-paced, busy lifestyles!" said MENAJI President Pamela Viglielmo.
"As a performer I have realized that image is everything and that sometimes the smallest of details can make the biggest difference. I have taken my skin for granted for years, but ever since I have incorporated MENAJI skincare products into my daily routine and pre-show routine the 'critics are raving!' Friends and family say I have a new 'glow.' As a male performer I have never really wanted to put on any kind of 'make-up' for my shows and now with MENAJI skincare products it's like I'm not wearing any. A clean shave with MENAJI ClearShave, followed by the Power Hydrator Aftershave, and then a little 911 Eye Gel and I'm good to go. Thanks MENAJI for giving me that extra glow for my show!" said Grainger.
Performing many of Sinatra's most popular and classic hits, Grainger invokes the imagination and provokes one's emotions during an incredible journey set in one unforgettable evening. Artistically incomparable and entertaining, Grainger delivers with passion.
"We wouldn't want it any other way," said Viglielmo. "MENAJI is passionate about making a man look like a man. Sinatra Sintennial Show with Jeff Grainger is passionate about delivering authentic Sinatra."
About MENAJI
Mënaji Advanced Men's Skincare, is an iconic, unique brand of men's skincare that is the original a category creator for Hi-Def, undetectable, camera-ready men's cosmetics. MENAJI was founded in 2000 by a celebrity make-up artist. Sold in America and overseas in more than 20 countries, the Mënaji product line is Made in the USA with natural botanicals.
About Sinatra Sintennial Show
A musical tribute Celebrating Ol' Blue Eyes' 100th Birthday by the man critics are claiming as "The closest to Sinatra we've ever heard," Jeff Grainger. For more information and tickets, visit http://www.sinatrasintennial.com.