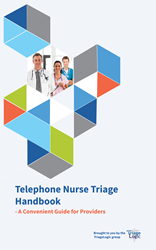 "This e-book provides a high quality resource to Providers and call center managers.It is an easy to read, and offers a practical guide for setting up a telephone triage resource." - Ravi Raheja, MD and Medical Director of TriageLogic, LLC
Jacksonville, FL (PRWEB) October 03, 2015
The TriageLogic group is pleased to announce the release of an e-book, "The Telephone Nurse Triage Handbook: A Convenient Guide for Providers", written by CEO Charu G. Raheja, PhD.
The "Telephone Nurse Triage Handbook" shares telemedicine innovations, relevant data and benefits of telephone nurse triage, as well as insights from the leaders at the TriageLogic Group. The TriageLogic Group has taken over 1M telephone triage calls in the last 10 years. Call Center Managers and Providers will learn what nurse triage is, how it works, and they will understand how to best utilize nurse triage in individual practices and call centers. Additionally, the book includes many practical action steps for healthcare professionals including:

How to evaluate your call center platform
How to select the best nurse triage system for your organization
How to use telephone nurse triage to improve patient satisfaction
How to reduce costs while providing the highest level of patient care
The handbook will be available in the Amazon and Kindle stores beginning this week for a minimal cost of $0.99, and will also be available for download from http://www.triagelogic.com for free.
"This e-book provides a high quality resource to Providers and call center managers," says Ravi Raheja, MD and Medical Director of TriageLogic, LLC, "It is an easy to read, and offers a practical guide for setting up a telephone triage resource."
The "Telephone Triage Handbook" is the first of a series of e-books that will be published by the TriageLogic Group. Currently, the group is also working on a guide to help telephone triage nurses be more effective when triaging patients. This resource will explain the clinical side and practical needs of triage nurses and is expected to be released early 2016.
"Education is an important goal for our company. Our company utilizes my background in teaching and finance along with the wealth of knowledge from our physicians and nurses to develop educational materials, like books and blogs, to help advance the field of telephone triage," says Charu G. Raheja.
For additional telephone triage resources and patient data, TriageLogic offers a free online Telephone Triage Learning Center. Visit http://www.triagelogic.com for more information.
About the TriageLogic Group:
Founded in 2005, TriageLogic is a URAC accredited, physician-lead provider of high quality telephone nurse triage services, triage education, and software for telephone medicine. The TriageLogic group serves over 5,000 physicians and covers over 18 million lives nationwide. For more information visit: http://www.triagelogic.com.
About Charu G. Raheja, PhD:
Charu G. Raheja, PhD is the CEO of TriageLogic Group, a leader in telemedicine that is committed to continuing to find innovative ways to improve access to affordable healthcare. Charu serves on the board for the Community Health Charities, and she is an active member of Women Business Leaders in Healthcare. Charu started her career in academics and earned a PhD in Finance from New York University in 2001.
About Ravi Raheja, MD:
Ravi K. Raheja, MD is a Board Certified Pediatrician, and the Medical Director and COO of TriageLogic Group. Ravi utilizes his private practice experience and 10 year call center oversight to help TriageLogic Group continue to develop products that allow their company to continue to be a leader in telemedicine. Ravi received a Doctor of Medicine from the Robert Wood Johnson Medical School at the University of Medicine and Dentistry of New Jersey in 1997.
About Marci Lawing, RN, BSN:
Marci Ludwig, RN, BSN, is the Nurse Manager for TriageLogic Group. Throughout her career in nursing, Marci has worked in multiple specialties including, Surgery, Disease Management, Care Management, and Occupational Health. Marci graduated from Chamberlain College of Nursing with a 4.0 GPA.