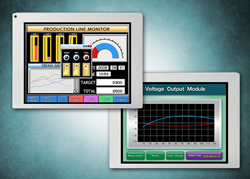 Expanded product lineup adds six new 5.7-inch modules: four with VGA resolution and two with QVGA resolution
Chino, CA (PRWEB) October 02, 2015
Tianma NLT USA has announced the introduction of six new 5.7-inch TFT LCD modules from NLT Technologies for industrial display applications: four VGA resolution models and two QVGA resolution models.
The six new LCDs are NLT's next generation 5.7-inch displays and feature a built-in LED driver board, wide operating temperature range (-30 to +80 Celsius), high contrast ratio of 900:1, and excellent display performance in a range of environments where industrial equipment is used. The new products are interchangeable, as they have the same module outline and the same mounting hole positions. Five of the new displays have CMOS interfaces while one of the VGA offerings has an LVDS interface.
5.7-inch VGA models
The four 5.7-inch VGA modules are resistant to vibrations up to 6.8 G, making them ideal for applications prone to strong shock and vibration such as in construction and marine equipment. They are available with standard and high brightness, LVDS or CMOS interface, and a portrait view compatible model is also available.
5.7-inch QVGA models
The new LCDs also include two QVGA models: a standard module and a high brightness module that achieves excellent visibility even in bright ambient light. Both displays feature a high contrast ratio and wide operating temperature range.
NLT Technologies is showcasing the new 5.7-inch VGA high brightness model with CMOS interface at CEATEC JAPAN 2015 (booth #5K53), October 7-10, in Chiba, Japan.
For more information, contact Tianma NLT USA, Inc., 13949 Central Ave., Chino, CA 91710. 909-590-5833. info(at)tianma(dot)com; http://www.tianma.com.
###
About Tianma NLT USA, Inc.
Tianma NLT USA has been established to be the leading provider of small to medium size display solutions to the Americas utilizing cutting edge technologies from Tianma Micro-electronics and NLT Technologies Ltd., coupled with the manufacturing resources of the Tianma Group. Applications include smartphones, tablet PCs, industrial and medical instrumentation, wearables, home automation, household appliances, office equipment, and automotive and rear seat entertainment devices, as well as test and measurement systems, instrumentation equipment, point-of-sale and ATM systems, gaming systems, global positioning systems, radio-frequency identification devices and barcode scanners.
Technologies include TFT, LTPS-TFT, Oxide-TFT, AM-OLED, flexible, transparent, 3D, PCAP and In-cell/On-cell integrated touch technology. With a network of best-in-class distributors and value-added partners, Tianma NLT USA provides complete display module solutions for a broad base of customers and applications. The range of display features offered includes ultra-high resolutions, wide temperature ranges, high contrast ratios, rich color gamut, backward compatibility, LED backlights, high bright and transflective viewing for use in diverse lighting environments.
The content in this press release, including, but not limited to, product prices and specifications, is based on the information as of the date indicated on the document, but may be subject to change without prior notice.