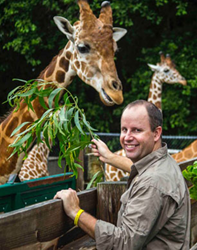 "It has been said that we may be witnessing the next megafauna extinction on this planet, right here before our very eyes," said Amy Phelps, Lead Giraffe Keeper at Oakland Zoo.
Oakland, CA (PRWEB) October 05, 2015
Oakland, CA – On Sunday, October 11, 2015 from 6:30pm – 9:30pm, Oakland Zoo's Conservation Speaker Series presents "It's a War out There! Saving Africa's Forgotten Giants," featuring acclaimed giraffe researcher Dr. Julian Fennessy, Executive Director of Giraffe Conservation Foundation. This evening lecture will highlight the history of the world's tallest animal and why, through advertising, we are led to believe these beautiful animals are everywhere, but in reality, giraffes are extinct in seven African countries. According to Fennessy, there are less than 80,000 giraffes left in the wild. "Involvement and integration of giraffe conservation efforts into actions of government, NGO, private sector and individuals is critical to supporting the long-term conservation of Africa's forgotten giant," said Dr. Julian Fennessy. "However, conservation of one of the most iconic species in the world is a 'team' effort and the support of the international community is critical – starting now! And we would like you to join our team and together help save giraffe before it is too late."
Through a deeply moving presentation, Fennessy will showcase the efforts happening right now to save this long-necked animal from extinction. "It has been said that we may be witnessing the next megafauna extinction on this planet, right here before our very eyes," said Amy Phelps, Lead Giraffe Keeper at Oakland Zoo. "With so many species on this planet facing massive conservation threats, the time to stand up and do something is now! I can't imagine growing up in a world with no giraffes, no elephants, or no rhinos. This is a critical time in conservation for many species and the key to reversing this trend of species loss is communication and getting the word out about what's happening." The audience will learn how the Giraffe Conservation Foundation plays a vital role in creating an international conservation community focused on environmental education, outreach, and communication.
This lecture is open to the public and will be held at Oakland Zoo's Zimmer Auditorium, located in the lower entrance of the Zoo, 9777 Golf Links Road, Oakland, CA 94605. Parking is free and tickets can be purchased at the door. The admission price for the evening's speaker presentation is $12.00 - $20.00 per person (sliding scale). A silent auction will also take place with offerings such as a giraffe feeding, giraffe painting experience, and unique giraffe themed items from Africa. Light refreshments will be served. All proceeds from this event will be donated to the Giraffe Conservation Foundation.
Oakland Zoo is honored to host Dr. Julian Fennessy for this special lecture and fundraiser. Dr. Fennessy is a leader in the world of giraffe conservation, and his talk will provide the audience with the most current giraffe conservation information, straight from the field.
ABOUT DR. JULIAN FENNESSY:
Dr. Julian Fennessy is a leading Conservation Scientist and Co-Chair of the IUCN SSC Giraffe & Okapi Specialist Group. He has more than seventeen years of experience in species and habitat ecology, conservation and land management across the African continent (and Australia), with a particular expertise in focal giraffe related activities across Africa. His experience in the field of giraffe conservation is something few others can boast, from individual field projects, supervision of students, population country-wide assessments, to expert advisor on (sub) species conservation strategies. Dr. Fennessy has conducted numerous conservation expeditions across the continent including in Botswana, Kenya, Namibia, Niger, Uganda, and Zambia. Julian holds a PhD in Biological Science from the University of Sydney, Australia based on his work in Namibia – the ecology of the desert-dwelling giraffe in Namibia's Northwest.
ABOUT OAKLAND ZOO:
The Bay Area's award-winning Oakland Zoo is home to more than 660 native and exotic animals. The Zoo offers many educational programs and kid's activities perfect for science field trips, family day trips and exciting birthday parties. Oakland Zoo supports wildlife conservation both locally and globally. Nestled in the Oakland Hills, in 500-acre Knowland Park, the Zoo is located at 9777 Golf Links Road, off Highway 580. The East Bay Zoological Society (Oakland Zoo) is a nonprofit 501(c)3 organization supported in part by members, contributions, the City of Oakland and the East Bay Regional Parks. For more information please visit our website at http://www.oaklandzoo.org.
###