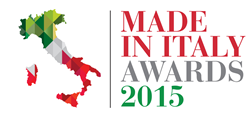 New York (PRWEB) October 02, 2015
The winners of the third edition of the Made in Italy Awards were officially announced today. The awards are organized to recognize and celebrate the notable Italian personalities, artists and businesses, each in their own sector, who have made the most significant contribution to Italy's influence and prestige in the Unites States.
This year's winners include top brands like Prada, Missoni and Zegna in the fashion categories; Kartell for design, and Renzo Piano for the most impactful architectural project. The Consorzio Parmigiano Reggiano, Ducati Motors, Bulgari are also among the other top winners.
Organized with the endorsement of the Italian Trade Agency, the Made in Italy Awards reached its final voting stages during the summer, with the participation of over 20,000 people who cast their votes online and on social media. The awards ceremony will take place in New York where the 2016 edition will also be announced.
The Awards are assigned in eight categories, which group the over 200 selected brands & professionals who took part at the 2015 edition.
The winners selected by the public of the Made in Italy Awards 2015 are:
Food & Beverages

Food: Consorzio Parmigiano Reggiano
Wines: Ferrari
Spirits: Campari
Restaurants & Chefs: Lidia Bastianich
Fashion

Women Clothing: Missoni
Women Accessories: Prada
Men Clothing: Ermenegildo Zegna
Sartioral Clothing: Stefano Ricci
Men Accessories: Tod's
Jewelry: Bulgari
Motors

Automotive: Ferrari
Motorcycles: Ducati
Boats: Riva
-
Design

Home: Kartell
Design: Boccadoro Design
Architecture: Renzo Piano
Travel & Leisure

Hotel: Villa D'Este
Tourism Services: Agriturismo.it
Media

Journalist: Liliana Faccioli Pintozzi, SkyTV
Writer: Andrea Camilleri
Blogger: Eleonora Baldwin with Aglio, olio e peperoncino
Digital: Cloud4Wi
Artist

Actor: Roberto Benigni
Actress: Laura Morante
Performing Artist: Roberto Bolle
Director: Paolo Sorrentino
Business

Company: Vibram
Businessman: Oscar Farinetti, Eataly
Businesswoman: Francesca Sozzani, Vogue Italia
###
The Made in Italy Awards are produced by Made in Italy Awards Corp.
Based in New York, the company is dedicated to the promotion of Italian excellence in the world supporting Italian talents through effective networking and communication activities.