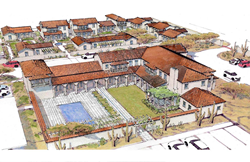 "He is the father of pocket neighborhoods and nobody understands their value more than Ross," says Roth.
Seattle, WA (PRWEB) October 02, 2015
Under development by ECC Management, LLC (ECC), a Seattle-based real estate company, Luna Azul will be located in the Phoenix Metro area and feature 30 cottage homes where adults will live safely and permanently in a neighborhood of peers.
"Trends tell the story," says Chapin. "For decades, housing subdivisions have been built with ever-larger houses that emphasize privacy. The unfortunate result is that many people have little contact with their neighbors and feel isolated, even among a sea of houses. Pocket neighborhoods are an antidote to the problem, where privacy is balanced with the need for community."
Luna Azul is designed as an alternative to institutional or other current living options for people with a host of disabilities. The homes will be laid out in two clusters, each with a central landscaped commons. With this arrangement, neighbors will have informal interactions in their daily flow of life. And with "layers of personal space", having front porches to engage neighbors and interior spaces and private back gardens to retreat to, residents can choose their comfort level of social engagement.
Between the two clusters is the Center House where residents can gather in a communal space complete with media room and exercise facilities. The building wraps around a courtyard with a green lawn, covered outdoor room with a fireplace and overhead trellis, and a pool and patio. This will be a place where people come and engage with the whole community.
The philosophy behind pocket neighborhoods is about fostering what Chapin calls "neighborships."
"Your best friend may not be next door, but your best neighbor might be," he adds. "People chat, get to know each other, parents come and go, and the neighbors start looking out for each other. As we begin to know our neighbors, we pay attention and care about each other. This is the perfect setting for ECC Management to fulfill its mission of creating homes for disabled adults who can live on their own with support and community."
"We could not be more honored having Ross design our first community," says Mark Roth, founder and principal of ECC Management. "He is the father of pocket neighborhoods and nobody understands their value more than Ross. He is putting so much care and thought into how the homes are designed, where they are placed in the neighborhood and the positioning of the common areas, that we are convinced that Luna Azul will be recognized as one of the top cottage communities in the country when it's finished."
"We were really excited," says Chapin. "We have been working with developers since the mid-90s and addressing the issues of singles, empty nesters, young families, and I have been thinking that this approach is ideal for others as well. When Mark came and told us about his vision for his daughter's future (Mark is a father of a daughter with a developmental disability), we thought this could be a place that would provide a secure, inclusive environment for people with disabilities; where they could feel at home in a neighborhood of peers. Luna Azul will provide a sense of space, routine, and community within a clear conceptual relationship of where they live."
Luna Azul will include two bedroom and three bedroom homes. Each will have a room-sized front porch and will include full kitchens, baths, and unique safety and design features. Exterior styling will feature vernacular design elements and materials familiar with the region.
Individual families will arrange for the unique in-home services required for their family member, but the homeowners together will share the planning and costs of community services like a full-time director, overnight staffing, light home maintenance, transportation assistance, and recreational/social activities.
And uniquely, title to homes in Luna Azul may be owned by a family or Special Needs Trust, and extra rooms may be rented by the family-owners to compatible roommates to help defray costs.
For more information on Luna Azul, visit ECCManagement.net.
About Ross Chapin Architects
Ross Chapin Architects is an award-winning firm known for designing wonderfully scaled and richly detailed buildings and gardens since 1982. Their work focuses on custom residential design and neighborhood development. Their built projects and innovative ideas have received international media coverage, professional peer review and national design awards, and are shifting the thinking of homebuyers, builders and policy makers. With each project, they strive to create places that nourish the individual, support healthy family relationships, and foster a strong sense of community. The firm is lead by Ross Chapin FAIA, who is the author of the influential book, Pocket Neighborhoods: Creating Small Scale Community in a Large Scale World.
About ECC Management
ECC Management was founded and is managed by Mark Roth, a former securities attorney and the father of a teenager with special needs. The Company develops and sells title to cottages in pocket neighborhoods which are suitable for, but not exclusive to, adults with intellectual, developmental and acquired disabilities. Homes are sold at market prices, and investors and lenders are paid market returns so that housing projects, and residents' well-being, are never entirely dependent on government subsidies or charitable giving.
Mr. Roth is also the founder of The Cottage Foundation, Inc., a 501(c)(3) non-profit corporation raising money to help finance the development of housing for adults with special needs.