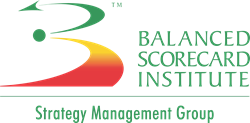 December, 2015 will mark another milestone with BSI's first-ever Balanced Scorecard Professional Certification Training (BSP) provided in Arabic within Saudi Arabia
Cary, NC, USA (PRWEB) October 08, 2015
The Balanced Scorecard Institute's (BSI) training and certification offerings continue to expand in the Middle East. December, 2015 will mark another milestone with BSI's first-ever Balanced Scorecard Professional Certification Training (BSP) provided in Arabic within Saudi Arabia. The BSP training will be provided to the Riyadh Chamber of Commerce & Industry (RCCI) members and employees by Progress Consulting, BSI's Global Partner operating from Saudi Arabia.
RCCI is non-profit organization that reinforces and supports the work sector in Riyadh, playing a leading role in the Kingdom's national economy through supporting and encouraging the private sector. RCCI belongs to the Council of Saudi Chambers of Commerce & Industry.
The Balanced Scorecard Certified Professional Bootcamp certification training will occur over six days in December in Riyadh, Saudi Arabia. Certification at the professional practitioner level is provided jointly by BSI and the George Washington University College of Professional Studies in Washington DC, USA.
The BSP training uses BSI's Nine-Steps-to-SuccessTM balanced scorecard framework, which is taught throughout the U.S. by the Balanced Scorecard Institute and in more than 30 countries by its global partners. BSI has trained more than 6,000 participants and certified more than 2,200 balanced scorecard practitioners worldwide. Through BSI's worldwide training and consulting, the Nine-Steps-to-SuccessTM also is used by more than 200 government, non-profit and commercial organizations as their strategy planning and performance management system.
BSI's Balanced Scorecard Certification Program provides practitioners the tools and skills to help their organizations increase focus on strategy and results, improve organizational performance by measuring what matters, align the work people do on a day-to-day basis with strategy, focus on the drivers of future performance, improve communication of the organization's Vision and Strategy, and prioritize in tough economic times. The training features hands-on exercises and case studies that will provide RCCI's employees and other delegates with knowledge and skills needed to achieve the organization's objective of adopting modern techniques for strategy and performance management. Additionally, RCCI members participating in the training will enhance the working community by sharpening and expanding their management skills and qualifications.
About Progress Consulting: Progress Consulting, as a BSI Global Partner, provides BSI-based services, consulting and training in the Middle East. Progress Consulting was honored this year by the Minister of Labor and RCCI Chairman for its contribution to the development of workforce managerial skills and qualifications. For more information about BSI services offered in the Middle East, contact arabia(at)balancedscorecard(dot)org.
About the Balanced Scorecard Institute (BSI): The Balanced Scorecard Institute, a Strategy Management Group Company, provides strategic planning, balanced scorecard and performance measurement and management training, certification, and consulting services to government, non-profit, and commercial organizations. Services include public and on-site courses, facilitation and consulting services, and information and tools used by executives, managers and analysts to transform their organizations into "performance excellence" organizations. The Balanced Scorecard Institute has trained more than 6,000 participants worldwide. The Balanced Scorecard Institute was the original certifying body for balanced scorecard practitioners worldwide.
BSI's website -- http://www.balancedscorecard.org -- is a leading resource for information, ideas and best practices on strategic planning and management, performance measurement, and balanced scorecard systems. BSI's Nine Steps to Success™ balanced scorecard framework integrates strategic planning, budgeting, operational planning, performance measurement and strategy execution into a disciplined framework for helping organizations achieve higher levels of performance.