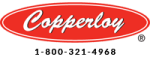 Twinsburg, OH (PRWEB) October 13, 2015
Answering the call for enhanced delivery efficiency, industrial ramp and loading dock giant Copperloy has responded to industry demand by engineering Extra Large Yard Ramps that significantly increase the efficiency and speed of the delivery process.
Industrial yard ramps and loading docks are used by a wide range of industries involved in shipping and receiving virtually every type of product imaginable. When the ramp in question is too short or too narrow to efficiently load or unload a shipment, employee safety becomes a concern, as does lost revenue due to wasted man hours. The introduction of Copperloy's Extra Large Yard Ramps promises to have a profound impact on the safety, efficiency and profitability of both ends of the delivery process.
Copperloy steel ramps are typically capable of handling up to 50,000 pounds, but they have raised that number to 60,000 pounds for their new Extra Large Yard Ramps. Additional features on the new ramps include solid steel construction with serrated grating for improved traction and durability, and enhanced weather safety and efficiency allowing snow and rain to fall through. The new ramps are available in widths of either 70 inches or 84 inches depending on your needs, and they come in a safe and stable length of 36 feet.
All Copperloy products are made in the USA. Call Copperloy today at 800.321.4968 for more information on choosing an Extra Large Yard Ramp that will fit your needs and speed up your delivery process.
More information is available on our website http://www.copperloy.com, or contact our customer service department at 1-800-321-4968 to learn more about your local Copperloy dealer.