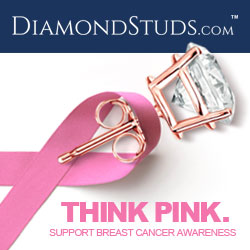 Los Angeles, California (PRWEB) October 01, 2015
Breast Cancer Awareness month is October and to raise awareness, DiamondStuds.com will, for a consecutive year, donate a portion of their October proceeds to the National Breast Cancer Foundation Inc. By joining the fight for Breast Cancer Awareness, DiamondStuds.com hopes that customers will take part in helping them make a generously large donation again this year. As an online leader for diamond stud earrings, DiamondStuds.com hopes that customers will fall in love with their vast selection of jewelry and feel great about their contribution. Finding the perfect earring, pendant, necklace or ring at DiamondStuds.com is not only effortless, but also provides a great opportunity to donate to a great cause. By getting involved in such an important cause, DiamondStuds.com customers will be a part of a positive campaign towards spreading awareness for breast cancer.
The National Breast Cancer Foundation Inc. was founded in 1991 with a mission to educate women about early detection, prevention and support. DiamondStuds.com has decided to join the fight against breast cancer and support the women in need by donating a portion of the October proceeds. By offering a larger selection of new products for their customers to choose from, DiamondStuds.com furthers its commitment to customers.
About DiamondStuds.com:
Armed with a mission of lasting excellence and superior knowledge about diamonds, DiamondStuds.com focuses on diamond jewelry. The attention to details allows the company to offer their consumers the largest selection of fine diamond earrings, diamond necklaces and diamond rings online. DiamondStuds.com also provides a huge array of customization options, enabling each individual to create an exquisite pair of studs, halo earrings, gemstone earrings or fashion earrings unique to his or her personal preferences. To learn more about DiamondStuds.com, please browse the website at http://www.diamondstuds.com. Customers can call DiamondStuds.com at 1-855-WOW-STUDS (1-855-969-7883), to speak live with a diamond expert or send an email to info(at)diamondstuds(dot)com