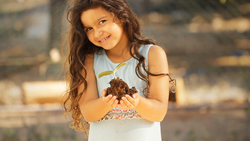 The benefits of soil health are numerous, both on- and off-the-farm.
Greensboro, NC (PRWEB) October 23, 2015
Soil, often treated like dirt, may soon get the respect it deserves.
According to USDA's Natural Resources Conservation Service (NRCS), improving soil health can actually provide solutions to some of the planet's biggest challenges, including climate change and food sustainability.
Because of its potential to take carbon dioxide out of the atmosphere and store it in the ground, healthy soil represents a way to help reverse the negative impacts of greenhouse gases. Plus, healthy soil stores more water, which makes cropland more resilient to extreme weather events like droughts and floods.
But, for the most part, healthy soil's transformative environmental and food production power has remained buried underground.
To change that, NRCS is distributing a series of 15- and 30-second public service messages to television stations across the nation to highlight the critical role healthy soil plays in our lives, on our planet and in our future.
According to Ron Nichols, the campaign's communications coordinator, the benefits of soil health are numerous, both on- and off-the-farm.
"By farming using soil health principles and practices like no-till, cover cropping and diverse rotations, more and more farmers are actually increasing their soil's organic matter and improving microbial activity," Nichols said. "As a result, farmers are sequestering more carbon, increasing water infiltration, improving wildlife and pollinator habitat—all while harvesting better profits and often better yields. Off-the-farm, these practices are improving water and air quality, too," he said.
While it works with farmers and ranchers to improve soil health throughout the country, NRCS also wants consumers to know about and support growers who are harvesting this new hope in healthy soil. The television PSAs, which are part of NRCS' "Unlock the Secrets in the Soil" campaign, will play a key role in educating audiences on and off the farm, according to Nichols.
"Ultimately, the goal of the agency's campaign is to increase the adoption of soil health-improving systems on as many of the nation's farm and ranches as possible," he said.
The PSAs will be distributed to 900 local TV stations as well as to 153 national cable networks and distributed to members of the National Association of Broadcasters via their closed circuit distribution system. Broadcast quality versions of the PSA can also be downloaded at: http://www.goodwillcommunications.com/PSADigitalFiles.aspx?campId=343. For more information on the campaign, go to: http://www.nrcs.usda.gov.