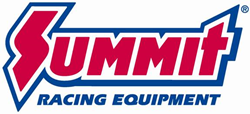 Tallmadge, OH (PRWEB) October 02, 2015
Get on the edge of engine detailing with a set of Proform GM Licensed Slant Edge Valve Covers. The heavy-duty die-cast aluminum covers have distinctive slanted edges on the top and sides, plus a raised Chevrolet Bowtie logo. Nothing else looks quite like them.
What's more, the covers are tall enough to clear roller rocker arms and stud girdles, and have a thick bottom rail to prevent oil leaks. No wonder GM gave them its seal of approval.
The covers are available for 1955-2002 Gen 1 small blocks. Choose from the following finishes:

Natural
Chrome
Polished
Metallic gray
Black wrinkle
Black crinkle
• Gray crinkle

Red powder-coated
Blue powder-coated
Orange powder-coated
Yellow powder-coated
Green powder-coated
White powder-coated
Summit Racing Equipment
http://www.SummitRacing.com
1-800-230-3030