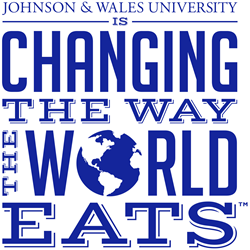 All the healthy food in the world isn't good if it isn't palatable.
Providence, Rhode Island (PRWEB) October 02, 2015
Much about the way we eat has changed since 1973 when opened it College of Culinary Arts in Providence, R.I. Americans have gone from adhering to four food groups (milk, meat, vegetables and fruits, and bread/cereal), to decoding nutritional labeling, assessing a multitude of diet recommendations and fads, and getting caught between the crosshairs of fact and hyperbole. Simultaneously, the university has expanded to four campuses across the U.S. while the power of food has become as controversial as it has beneficial.
As an international leader of culinary education and with its scores of alumni who have become established in the food industry as executive chefs, research chefs, nutritionists, dietitians, food service managers, entrepreneurs and business leaders, JWU has become a recognized food authority. In addition, the university has collaborated with medical schools across the U.S. including Tulane University School of Medicine, Warren Alpert Medical School of Brown University, and the University of Colorado School of Medicine in an effort to bridge the gap between food and medicine. To emphasize its role in the world's food decisions, industry choices, and overall health and well-being, JWU has launched a public awareness effort with the theme, "Johnson & Wales University is changing the way the world eats."
Chef Jonathan Poyourow'03, RD, LD, an assistant professor in the Culinary Nutrition department, is leading the effort with new TV segments that appear bi-weekly as part of Cooking with Class on NBC10's noon news broadcast which airs in southern New England. Chefs and faculty at all campuses will be joining the effort to educate consumers about eating healthy through media and community appearances. A new website has been launched featuring blogs, tips, and recipes from JWU faculty experts, http://www.jwu.edu/eat-healthy, and a visual identity captures the essence of the effort.
Since 1973, the world's eating habits and global food industry have evolved exponentially. The World Health Organization reports that worldwide obesity has more than doubled since 1980. "Consumers have been blitzed by information on what's good and not good to eat," Peter Lehmuller, Ed.D., dean of the College of Culinary Arts says, "Our faculty, alumni, and inquisitive students are able to apply what they know and learn so that a multitude of people can eat healthier. All the healthy food in the world isn't good if it isn't palatable."
Lehmuller, a 20-year veteran with the university, articulates the sea-change in culinary education. Once considered a vocation, culinary arts has been generating a new field of careers that extend beyond the kitchen and into the research labs of major food companies, entrepreneurial start-ups, medical schools, and more.
During the past three decades, JWU's culinary programs have evolved to include a Bachelor of Science degree in Culinary Nutrition. The program, launched in 1999, was the first of its kind to receive accreditation from the Accreditation Council for Education in Nutrition and Dietetics (ACEND). Many of its graduates go on to become dietitians and research chefs. According to the U.S. Bureau of Labor Statistics, employment of dietitians and nutritionists is projected to grow 21 percent through 2022, faster than the average for all occupations. The role of food in preventing and treating illnesses, such as diabetes, is now well known. More dietitians and nutritionists will be needed to provide care for patients with various medical conditions and to advise people who want to improve their overall health.
ABOUT JWU
Founded in 1914, Johnson & Wales University is a private, nonprofit, accredited institution with more than 16,000 graduate, undergraduate and online students at its four campuses in Providence, R.I.; North Miami, Fla.; Denver, Colo.; and Charlotte, N.C. An innovative educational leader, the university offers degree programs in arts and sciences, business, culinary arts, education, nutrition, hospitality, physician assistant studies, engineering and design. Its unique model integrates arts and sciences and industry-focused education with work experience and leadership opportunities, inspiring students to achieve professional success and lifelong personal growth. The university's impact is global, with alumni from 119 countries pursuing careers worldwide. For more information, visit http://www.jwu.edu.
END
Media contact: Miriam Weinstein, assistant director, communications & media relations, 401-598-1157, miriam.weinstein(at)jwu(dot)edu