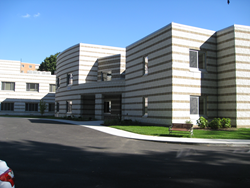 We're preparing our patients for a successful, confident return home after hospitalization for illness or surgery
Akron, OH (PRWEB) October 03, 2015
Rockynol, 1150 West Market Street, is dedicating its new Rehabilitation Center on Thursday October 8, 2015. The impressive $4.9 million dollar center accommodates 35 patients in spacious private suites and semi-private rooms that include in-room showers, flat-screen TVs, power-lift recliners and window views.
Comfortable common areas invite patients out of their suites to meet new people, relax and recover. Delicious chef-prepared, cooked-to-order meals are available in the new dining room ore delivered to a patient's room upon request.
The new Rehab Services area includes a dynamic therapy gym with advanced equipment; and it is staffed by expertly trained, certified therapists. With the goal of returning home, patients are coached on strength training and real-life therapies that simulate essential daily living tasks such as personal hygiene, household chores, cooking, and grocery shopping.
"We're preparing our patients for a successful, confident return home after hospitalization for illness or surgery," commented Executive Director Kara Hanzie. "We are excited to be able to provide the type of rehabilitation services in the kind of setting patients have been looking for."
Rockynol's highly rated program recently had a 100% deficiency-free survey by the Ohio Department of Health.
When individuals have more extensive health care needs, Rockynol also offers long term skilled nursing care.
About Rockynol
Rockynol is one of 12 retirement communities owned and operated by OPRS Communities, a wholly owned subsidiary of Ohio Presbyterian Retirement Services(OPRS), headquartered in Columbus. In addition to rehabilitation and long term nursing, Rockynol's full continuum of care also includes Independent, Assisted Living, and Memory Care apartments. Since 1922, OPRS has defined the highest standards of quality of life for older adults. Each year, OPRS serves more than 73,000 people annually through its wholly owned subsidiaries OPRS Communities and Senior Independence.