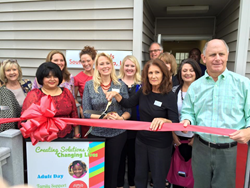 We are exited to have an office in Americus to better serve the individuals and families who live in this area
Americus, Georgia (PRWEB) October 07, 2015
Thursday October 1st, Easter Seals Southern Georgia held an open house and ribbon cutting ceremony to celebrate their new office at 104 International Blvd. Building D in Americus, Ga. Staff were on hand to answer questions and to welcome their guests to the event. Currently two employees are staffed at the office serving the Family Support program and individuals in the Vocational Services programs.
Family Support is a broad based category that serves children and adults, ages 3 and up, who have intellectual/development disabilities and autism. The goal of family support is to keep families together, until the individual with a disability chooses to live independently. Family support is designed to improve the quality of supports to families, while minimizing the need and cost of out of home placements. This program also allows families to participate in recreational and social activities, and most importantly to make a positive difference in the life of the person with a disability. The vocational Department works with individuals with disabilities with employment options, job coaching and assessment.
Easter Seals Southern Georgia Easter Seals Southern Georgia provides exceptional services, education, outreach, and advocacy so that people living with autism and other disabilities can live, learn, work and play in our communities. To read more about our services and programs call our office at 229-439-7061 or go to our website at http://www.easterseals.com/southerngeorgia/.